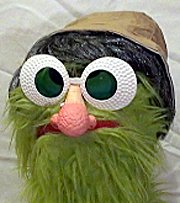 Baltimore, MD (PRWEB) June 15, 2011
Many movie critics have made a lasting impact on American culture, from Leonard Maltin to Pauline Kael to Roger Ebert. But it is safe to say that none of these critics had green fur and delivered their reviews in musical rhyme...until now. Meet Leland, the Singing Film Critic, who, since May 2011, has been offering his cinematic opinions on YouTube and Facebook. His reviews have been posted on the movie fan site EntertainmentGeekly.com as well.
In the relatively brief period since making his online debut, Leland—a hand puppet with googly eyes, a bulbous nose and a stylish tan hat—has sung his reviews of the US blockbuster movies Thor, Priest, Pirates of the Caribbean: On Stranger Tides, X-Men: First Class, and Super 8, rating each on a scale of 1 to 10. Upcoming reviews are anticipated for Green Lantern, Harry Potter and the Deathly Hallows: Part 2, and Captain America, with more to come. Each review runs about a minute and a half.
Leland's unique sense of humor and rhyme may be conveyed by the following snippet of his Priest review: "Oh, Priest / Was bad to say the least / I prayed to the Lord / Let this film have a good story / Instead, I was bored / With vampires so gory..." Addressing Paul Bettany, Priest's leading man, Leland asks: "Oh Bettany... / Good film roles / Why can't you gettany?"
Baltimore resident Alex Thaler, who created Leland and writes and sings his reviews, said, "Leland is an outlet for my creative energies and reflects my life-long love for the movies. As a puppet—and one who presents his reviews in a singing rhyme format—Leland can get away with saying things that might get a human film critic in hot water."
To watch and subscribe to Leland, the Singing Film Critic on YouTube, please visit:
http://www.youtube.com/thesingingfilmcritic
To watch and "like" Leland, the Singing Film Critic on Facebook, please visit:
http://www.facebook.com/pages/Leland-The-Singing-Film-Critic/144097478995692
Press Contact:
TheSingingCritic(at)aol(dot)com
###