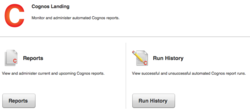 Cognos can be managed as a part of a comprehensive cross-platform workload automation solution
Las Vegas, NV (PRWEB) June 15, 2011
Flux, a proven leader in sophisticated job scheduling, managed file transfer, automated dataflows, and ETL automation, announced today the availability of their unique integration between Flux and Cognos Business Intelligence.
Powerful. Intuitive. Simplified.
The standard Cognos scheduling capabilities do not allow you to wait for files to arrive and move them into position before running reports, nor can you use complex business calendars for automating reports. With Flux, the Cognos user can now leverage more advanced enterprise job scheduling features than those provided by the native Cognos scheduler.
Design your jobs and workflows using a drag-and-drop visual interface, right in your web-based Flux Operations Console. No need to install a desktop client. With the Flux Operations Console, you now have a single point of control to watch over and monitor all your jobs, workflows, and file transfers.
— Eliminates scripting and complex integration requirements.
— Enables integration of Cognos jobs with all other workflows.
— Design, launch, and monitor automated Cognos reports from Flux.
Cost Effective. Robust. Reliable.
Cognos SDK purchase eliminated — Already a surprisingly affordable workload automation solution, the innovative Flux development team has gone so far as to eliminate the need to purchase the Cognos SDK and enhances the Cognos scheduler with the enterprise class workload automation capabilities found in Flux.
Acquire access to Flux's robust features — This includes automation of ETL tools, managed file transfer, and report functionality that ensures reliability, efficiency, and security. Designing multiple job flows is straight forward with the flexibility to suspend jobs, structure a collection of independent jobs, and the capability to set up custom calendars. Error detection and logging is a key feature along with job history tracking and scalability.
Increase productivity and timely reports — Flux has tackled the ongoing BI customer issue of on-time report delivery. Whether it runs in a batch or is on demand, available data is launched automatically as soon as it is received. Additionally, data integrity and accuracy is confirmed through the use of Flux's comprehensive scheduling and failure detection processes.
Stay on top of issues by setting custom SLA's for automated Cognos reports — With Flux, you can utilize automatic email and SMS notifications of delayed reports or warnings of potential costly delays and resolve issues quickly. Flux also enables you to define SLA's and notifications for the various parts of an automated data warehouse. With increased communication to IT staff, action can be taken immediately.
About Flux
Flux is a software company dedicated to advancing workload automation and managed file transfer by delivering performance, reliability, ease-of-use, and unyielding accessible customer support. First released in 2000, Flux has grown into a vital part of IT operations around the world with hundreds of customers in 35 countries.
With an emphasis on the orchestration of sophisticated job scheduling, managed file transfer, Web Services (SOA), and Java technology support, Flux delivers it all with a single point of control through a web browser. Intuitive modern interfaces bring it all together in a single browser window.
Across platforms and many industry sectors, Flux has simplified tasks surrounding workload scheduling ensuring that critical transactions are processed on time. Whether Flux is used as a powerful stand-alone workload automation solution or embedded into a larger application pushing tens of thousands of jobs, Flux solutions bring solid business value with efficiencies, precise control, and affordability.
Privately held, offices are located in Las Vegas, Buenos Aires, and Montana, all of which provide effective technical support and sales services to Flux's global customer base.
To learn more about Flux:
Visit fluxcorp.com
Request a Demo or Talk with an Engineer
Download Flux Data Sheet or Software
###