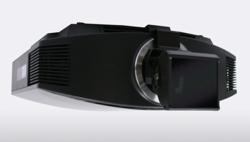 The Panamorph FVX200S combined with our VW series projectors provides installers an anamorphic solution at an affordable price.
Colorado Springs, CO (PRWEB) June 16, 2011
Panamorph, Inc. today announced its new FVX200S lens system for plug and play installation with Sony's SXRD projectors, the VPL-VW85 and the new VPL-VW90ES. The new lens system is based on anamorphic vertical compression technology and can deliver images far larger and more immersive than those created by today's flat panel displays. By supporting the full 2.40:1 aspect ratio of most major motion pictures – the same used in commercial cinemas – the FVX200S eliminates the annoying black "letterbox" bars seen on LCD, LED and plasma displays and recreates the full digital cinema experience in the home.
"Today's home cinema just doesn't get any better than this," commented Russell Warnhoff, Panamorph's Sales Manager. "The FVX200S combined with Sony's state of the art 1080p projectors actually delivers higher resolution than most commercial digital cinemas because of the anamorphic widescreen enhancement process. Most people don't realize that they aren't experiencing full HD performance when viewing widescreen motion pictures on a 16:9 flat panel display because a 25% of the screen is wasted on those annoying black "letterbox" bars. That's why today's top home theaters use anamorphic widescreen projection systems to properly display major motion pictures on a wider 2.40:1 screen. In the past, high quality anamorphic lens technology was just too expensive and complicated for most consumers. The FVX200S changes all that by providing high performance and ease of installation at an extraordinary price."
Sony's home theater projectors incorporate the proper anamorphic scaling modes to easily recreate the widescreen process originally developed by the film industry. Added Warnhoff, "The FVX200S lens system attaches to the Sony VPL-VW85 or VW90ES projectors with just two screws, converting the projector from 16:9 native to 2.40:1 native in less than 5 minutes. And with Sony including the various anamorphic modes, switching between different formats is usually just a matter of pushing a button."
"The Panamorph FVX200S combined with our VW series projectors provides installers an anamorphic solution at an affordable price", commented Amy Lloyd, Product Manager for the Sony Digital Home. "Customers can enjoy the biggest blockbusters on 2.40:1 projection screens, bringing the immersive cinema experience to the home theater."
The FVX200S ($2,995 MSRP) is based on Panamorph's patented anamorphic lens technology for the highest contrast and image clarity plus is fully compatible with all currently proposed 3D projection technologies (using the FVX200S for 3-D projection requires the purchase of an additional video processor).
About Panamorph
Panamorph is the most recognized and recommended anamorphic lens brand in the digital projection industry. Our history began when home cinema purists demanded high-performance, affordable lens systems to duplicate the dramatic imaging process that has been used by the commercial film industry for over fifty years. Blending a thorough understanding of the limitations of older lens designs with innovations stemming from thirty years of experience in high-end optical design and manufacturing, Panamorph's patented hybrid cylindrical/prism lens systems are ushering in the new age of home cinema experience that must be seen to be believed.
For more information on Panamorph or the immersive experience of anamorphic lens systems, visit http://www.Panamorph.com or contact John Schuermann directly.
###