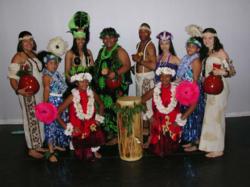 Flowers of Polynesia.
Providence, RI (PRWEB) June 16, 2011
Napua O' Polynesia, of Providence, RI, (http://www.tropicalisland-dancers.com) has been invited to perform at the World Invitational Hula Festival, Honolulu, Hawaii (http://www.worldhula.com). They will perform with their sister hula halau (hula school)—Tropical Polynesian Productions, of Glendale, AZ (http://www.tropicalpolynesianproductions.com). Napua O' Polynesia will represent Rhode Island. Tropical Polynesian Productions will represent Arizona. Kalena and Carolyn are both honored to have been given this opportunity to perform.
The World Invitational Hula Festival will take place November 10-12, 2011. This unique festival is an on-going celebration of Hawaiian culture, art, history, language, and relationship to all natural things in the Hawaiian Environment. Their goal is to to offer an opportunity for those away from Hawai`i to return and become "one" with halau (hula groups) from Hawai`i in the true feeling of 'ohana (family). To renew an appreciation of what it is to be Hawaiian conservators of the 'aina (land) and all that makes it bountiful, and to appreciate the universal need to preserve, protect, and enhance our 'aina and culture as treasures in our keeping.
Napua O' Polynesia is looking for sponsors and/or donations to help them get to Hawaii. You may find more detailed information on both websites about sponsorship programs.
Carolyn Castro, Artistic Director/Kumu Hula, for Napua O' Polynesia has been joyously leading this multicultural dance troupe since 1988. Napua O' Polynesia's dancers continue to perform throughout RI, the New England region, and nationally, too. Troupe members have competed three times at the International Hula competition in Honolulu, Hawaii.
Carolyn currently teaches on Saturdays from 3 pm to 5 pm, at the Carriage House Theater, 7 Duncan Ave, Providence, RI 02906. You may contact her at 401-273-8928 for further information.
Kalena, Artistic Director/Kumu Hula, for Tropical Polynesian Productions has taught Polynesian Dance at local colleges, universities, and adult community centers. She continues to conduct yearly Polynesian Dance Workshops, luaus, educational programs to schools, and will travel to your location outside of Arizona. Kalena's mission has always been, "Keeping It Alive and Passing It On".
Kalena is currently teaching Polynesian dance classes in Peoria, AZ. New classes start the first Thursday of every month. You may contact Kalena at 623-255-8491 for class location and times.
Paulie Jennings is the Executive Producer of the World Invitational Hula Festival, contact: paulie(at)worldhula(dot)com.
# # #