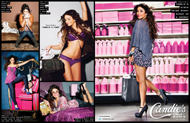 New York, NY (PRWEB) June 15, 2011
Award-winning actress, recording artist, and High School Musical star, Vanessa Hudgens, will appear in a new Candie's only at Kohl's TV & print marketing campaign playfully titled, "Candie's-isms." Fans will also get a unique chance to vote for their favorite TV commercial.
The fall creative features Hudgens starring in "Candie's-isms," the code Candie's girls live by, which is always to look on the pink side of life. Key rules include: "Candie's girls believe you can do anything in heels," "Candie's girls know sprinkles are a food group" and "Candie's girls never forget to treat themselves."
Vanessa Hudgens commented, "I love Candie's because they have so many great pieces you can mix into your wardrobe. My style is very similar to the Candie's girl style in a sense where we just want to have fun."
To kick off the new campaign, fans will be in charge of choosing the winning TV commercial spot from three versions to air on national television in late July. Voting takes place from June 15th – June 22nd exclusively at http://www.facebook.com/candies. The print campaign will make its debut in issues of fashion and lifestyle magazines such as Seventeen, Teen Vogue and Cosmopolitan, outdoor billboards, television and online at kohls.com this August.
Vanessa will give a behind the scenes glimpse into her world @Candiesbrand on Twitter and followers can become a fan at http://www.facebook.com/candies. Past Candie's spokespeople include Britney Spears, Fergie, Hilary Duff, Jenny McCarthy and the Dixie Chicks.
Starting June 15th, grab a sneak peek at behind-the-scenes video and photos to view, download and share at http://www.magicbulletmedia.com/MNR/CandiesVanessaHudgens.
B-ROLL: BEHIND-THE-SCENE'S FOOTAGE, SOUNDBITES, SIZZLE VIDEO & AD IMAGES
# # #