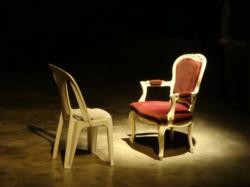 I think Facebook gave fate the little extra nudge it needed.
(PRWEB) June 15, 2011
As two interminable travelers from different parts of South America the chances of Jose Luis and Marcela meeting were slim, yet what's fascinating about their story is how close they came on so many occasions to meeting only to drift away again. Theirs is a story, to quote Jose Luis in the viral video of their wedding proposal, "of geographical mismatches, amazing coincidences and an improbable encounter."
"I was born in Peru and Marcela in Colombia. As a child of a kind of diplomat, I was exposed to travel from a young age and the older I got the more I realized how fortunate I was to enjoy that kind of lifestyle," explains Jose Luis. "It basically formed my attitude for my life from my teens until now: travel, travel, travel." And so he did, as did Marcela. Between the 2 of them they've been to over 50 countries and lived in over 10.
"I loved traveling", explains Marcela. "And I don't just mean the way most people enjoy a year abroad; I felt I was born to travel, to move. To be honest, it made thinking about a relationship hard." Jose Luis echoes her sentiments emphatically: "I wanted to keep seeing the world, meeting new people. I thought a relationship would bring all that to a crashing halt, and so I continually delayed thinking about relationships."
Incessant travel does have one major advantage, however: the sheer quantity of connections made through traveling means that any wanderlust-struck individual you come across is likely to have more Facebook friends than you and all your contacts put together. Indeed, for travelers Facebook is one of the finest accomplishments of human ingenuity since the backpack, since all these friends can become much more than mere memories once they're added as friends.
It's thanks to this that the marriage proposal of Jose Luis could take place. In all their travels the two never met, but that's not to say they didn't come close. At least 5 times (though undoubtedly more), the two were in the same place at the same time with several mutual friends, but that crucial meeting just never took place. Moving her hand onto Jose Luis's leg, Marcela leans forward and takes a contemplative breath before commenting on this: "It feels as though fate wanted us to meet, but for some reason we never did. Thankfully, I think Facebook gave fate the little extra nudge it needed."
Indeed, after so many missed opportunities, one mutual friend both had met in their various travels popped up in Jose Luis's newsfeed. Curious and most probably bored, Jose Luis, as we've all done so many times before, clicked through a few links before stumbling upon Marcela, by whom he was floored. Almost without hesitation, he messaged her under the guise of a merely curious distant acquaintance. Reply after reply a repertoire began and, with each new notification, their connection became more apparent. Months of contacting through Facebook ensued until, before they knew it, Jose Luis was boarding a plane to Colombia to find out if that connection could work without, well, a connection.
"I knew as soon as I saw her that everything had changed for me, and the longer I spent with her the more that reluctance about relationships - that trepidation about attachment - the more that all slipped away." He continues, "The craziest thing for me wasn't the feeling that I could spend the rest of my life with her, but how completely at ease I was with that feeling. Before I knew it, it struck me that I wanted to spend the rest of my life with this woman. I was ready for marriage. I wanted to propose."
Sat opposite him in a café in Bogotá, I'm swiftly finding out that Jose Luis doesn't do things the conventional way. Maybe all that travel has removed him from the normal way of doing things, or maybe it's his determination to think outside the box that drew him to travel, but in any case, you get the sense that his marriage proposal could never have been after a meal in a fancy restaurant. And so it was. Jose Luis planned for his future bride a marriage proposal which friends, and some of those that have seen the online video, have enthusiastically called the best wedding proposal ever.
"He told me we were just going to see his friend's short film, a kind of premiere," Marcela explains. "Of course I believed him, why wouldn't I? He even managed to convince me he was only so nervous because he hoped his friend's film was received well!" As the film started there were still no suspicions. Opening credits rolled across the screen accompanied by sweeping strings and the audience, made up of friends and family, sat patiently waiting for Marcela's surprise. Abruptly, ingeniously, Jose Luis's voice interrupted the proceedings. In the viral video, through the grainy compression of YouTube, you can just make out the surprise and confusion on Marcela's face.
"I didn't know what to think. Suddenly my boyfriend's voice was booming through the speakers of the cinema," laughs Marcela. As the video began, however, it was to become much clearer what was unfolding. Jose Luis began to recount their lives apart; their many travels; the many times they should have met but never did until finally, thanks to Facebook, their lives finally seemed to be in agreement with fate. Subsequently, the infamous Facebook design takes over the screen in direct acknowledgement of how much their romance owes to the social networking site. Finally, in a nod to the title of the "short film" (Deconstrucción), Jose Luis begins to unravel what's just been seen, announcing that the trailer he had created needed a title.
In the style of a Friend Request the title of the film appeared on the screen. It was, of course, "Marcela Mariscal, Will You Marry Me".
Marcela didn't know whether to sit or stand; whether to laugh or cry. "I knew what was coming by then, of course I did, but still nothing prepares you for that moment when the question actually arrives." She takes a sip of coffee before continuing. "JL appeared on stage to rapturous applause and took me backstage where he proposed." Jose Luis interrupts, laughing: "Thank god she said yes!"
The two of them begin laughing together, their joy apparent every time they exchange glances or reach for each other's hand. Theirs is a story of incredible coincidences and it's no wonder that, after the many times they could have met but didn't, now they finally have they're determined to hold on. Such is the power of their connection Jose Luis recently gave up his share in one of the most important travel companies in South America in order to move to Marcela's home country, Colombia.
"The truth is that for me this isn't just a love affair with Marcela, it's a love affair with Colombia too, and one I'll continue for the rest of my life," states Jose Luis. Marcela, it seems, couldn't be happier to share her husband's love with her home country and, harnessing their shared passion, the two have founded a successful (and still growing) travel company aimed at transforming the reputation of Colombia and offering Colombia tours. "I still love traveling but, after all the countries I've visited, I can truly say that to be with Marcela here in Bogotá, running See Colombia Travel … This is the only place for me."
It seems a good note to finish on and so we take the last sips of our coffees and shake hands. Just before we leave the café, Jose Luis stops me to take my contact details for Facebook. It's such a reflexive social norm that for a second we don't register the relevance of his invite. After I scribble down my name, however, Jose Luis leaves with a parting thought. "It's hard to believe that all this started from a message on something as everyday as Facebook. I guess that despite everything they say about the modern age, romance isn't really dead," he pauses for thought. "It's just different now."
And he's right. It can be tempting to condemn the all-access all-the-time culture in which we live, but it's thanks to these new connections that fate could finally work its magic and connect two people that truly, without any reservations, believe they were meant for each other. That, and their unforgettable marriage proposal, is without a doubt modern day romance.
###