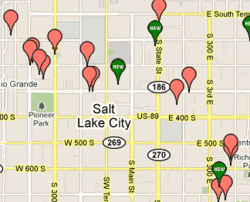 ...anyone considering purchasing a new home should start their search now to get the best deal.
San Mateo, CA (PRWEB) June 20, 2011
Movoto.com, a leading provider of free access to MLS listings and up-to-date real estate market data, announced today the expansion of their services to Utah. Movoto.com users will now have access to 20,000 active MLS listings in Utah and the support of a local network of Movoto Certified Real Estate Agents just in time for the summer buying season.
Choosing the right home in today's volatile real estate market can be difficult and Movoto.com helps simplify the process. When you view Utah homes for sale on Movoto, you also get detailed school information, neighborhood demographic data, comparable homes, and local homes for sale market statistics.
An easy to navigate search bar reveals matching homes on a large interactive map. Newly listed homes are highlighted and MLS homes for sale meeting user's criteria in surrounding areas are indicated with colored balloons. And, when a user places their mouse over a home, they instantly see the listing price, number of bedrooms and bathrooms, square footage and a preview of the photos available for the property for more efficient searching.
"According to our data, housing prices across the country are beginning to rebound, with a slight increase in prices over the past six months," said Movoto CEO Henry Shao. "Rents are continuing to increase and days on market are dropping, indicating that anyone considering purchasing a new home should start their search now to get the best deal."
Movoto now offers its full service real estate brokerage services that provide users with the most advanced search tools to find homes for sale listed in the MLS in 26 states and Washington, D.C. For more information, please visit movoto.com.
About Movoto
Founded in 2005, Redwood-City-based Movoto is led by an experienced team of real estate industry veterans and internet technology experts with a shared vision of empowering real estate consumers. Movoto provides a unique online home-buying solution that combines innovative, easy-to-use research tools with ready access to a network of experienced local real estate agents. For more information please visit http://www.movoto.com.
# # #