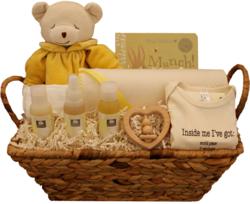 One of the company's strengths is its original, eco friendly designs, each of which include a complementary combination of quality products, that won't be found elsewhere online.
Atlanta, GA (PRWEB) June 16, 2011
Consumers, despite their best intentions, don't always have the time to look for eco friendly, healthy, stylish and thoughtful alternatives to conventional gifts. When they do, that search is oftentimes in vain. Featuring products from companies that are committed to preserving our earth and its inhabitants, newly launched Eco Chic Gift Baskets intends to become known as the go-to place for magnificently crafted all natural and organic gift baskets.
People often say that it's the thought that counts. Well thanks to Eco Chic Gift Baskets, gift givers now have an incomparable way to show their business associates, friends, and family members, not to mention Mother Earth, just how much they actually think of them. One of the company's strengths is its creative, eco friendly designs, each of which include a complementary combination of quality products, that won't be found elsewhere online. The website showcases this assortment of color-coordinated vegan-friendly, organic baby gift baskets, organic spa gift baskets and organic gourmet gift baskets. Items include, but are not limited to, organic stuffed animals, organic baby clothing, clean-burning candles made with non-GMO soy wax, essential oils and cotton wicks, inspirational books, organic skin care products and all natural snacks. The best part however is, the fact that the ingredients are recognizable and easy to pronounce.
So many companies are guilty of greenwashing and misleading consumers, throwing around the names organic and all natural, that we made a point to painstakingly select every product. Countless hours were spent, researching, testing and sampling eco friendly offerings; obsessing about taste, ingredients, health, utility, colors, packaging, price, and the list goes on, to create what we believe to be are some of the most creative and considerate gift baskets available. Steering clear of novelty items and deceptive claims, we have strived to offer eco friendly gifts that our recipients can not only use, but truly reflect the sender's good intentions.
The packaging is just as thoughtful. Every gift basket is created in a reusable container, utilizing biodegradable, all natural wood curls and 100% recycled and recyclable shred. It is then wrapped in recyclable cellophane, secured with a handwritten message on a plantable gift card, topped with bows produced from renewable, biodegradable cotton fiber, printed with non-toxic soy-based inks and shipped in a recycled and recyclable box. The magnitude of consideration given will be obvious to anyone who receives a gift from Eco Chic Gift Baskets. Not only will the sender be lavished with appreciation, but the planet will thank them too.
###