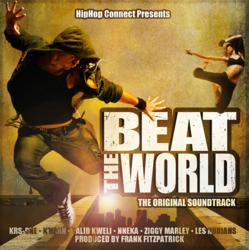 "Nearly every known culture in human history has expressed themselves through music and dance. We, as part of the global Hip Hop community, have a great opportunity to use these universal mediums to unite, inspire and empower young people around the world
Los Angeles, CA (PRWEB) June 16, 2011
Social entrepreneur and multi-platinum music producer Frank Fitzpatrick had a bigger plan in mind when he created the music for the international dance film Beat the World. More than just another film soundtrack, Beat the World brings together some of the world's most prominent conscious Hip Hop artists as part of Fitzpatrick's growing vision to build new social paradigms through music and film.
When Somalian born, new-school rapper and World Cup ambassador K'NAAN joined forces with one of Hip Hop's most respected founding fathers, KRS-One, to record the film's title track, "Hip Hop Nation", they too were on a mission: to represent the positive voice and power of the world's largest music-based cultural movement – Hip Hop. In addition to helping Fitzpatrick bring an original voice to the film, they created an anthem for the evolution of the global Hip Hop movement.
In "Express Yourself", reggae Icon Ziggy Marley and Nigerian-born powerhouse Nneka join forces to unveil another simple but crucial theme both for the film and Hip Hop culture: our need for self-expression, whether through music, dance, art, film or freedom of speech.
Other notable collaborations include the heroic "Infinite Love," featuring top British rapper Sway together with the renowned lyrical wordsmith Talib Kweli, and the multilingual world-beat dance track "Must Be the Music" performed by Les Nubians (France), Lina (US) and MV Bill (Brazil). The soundtrack also includes the end title "Keep Shining" by Kenya-born, Canadian Hip Hop artist Shad, and is guaranteed to rock and inspire as deeply as the best of Nas or Kanye West.
Beat The World the Original Soundtrack is the first international Hip Hop soundtrack featuring cross-cultural collaborations between such highly prominent and socially conscious artists. Grammy nominated songwriter/producer Frank Fitzpatrick traveled the globe to write and record original songs with these innovative masters to show how the powerful influence of global Hip Hop culture can inspire, empower and connect the world's youth.
Beat The World the Original Soundtrack is part of EarthTones' Music with a Heart series, and is available June 21st exclusively on iTunes. A portion of the proceeds will go to a scholarship program for under-privileged kids to study at Debbie Allen's Dance Academy in Los Angeles. The film (coming out in the United States as You Got Served: Beat the World) and soundtrack will be released in over 20 countries this summer.
About Hip Hop Connect:
Hip Hop Connect is an independent label and production company specializing in socially conscious rap, Hip Hop and film soundtracks. Directed and co-founded by Frank Fitzpatrick, Hip Hop Connect's mission is to connect and inspire young people around the world through compelling and conscientious Hip Hop songs and soundtracks.
About Frank Fitzpatrick:
Frank Fitzpatrick, a multi-platinum selling record producer, Grammy-nominated songwriter and award winning filmmaker, is a leading voice in the use of music for personal and social transformation. In addition to his 25 years creating successful media in Hollywood, Fitzpatrick has worked extensively in the non-profit sector and healing arts. Fitzpatrick has written and produced songs for artists and productions as varied as Jill Scott, The London Symphony and the High School Musical Tour, and produced live shows for the likes of Miles Davis, Ray Charles and Prince. His composition credits include Disney Channel's record-breaking hit Jump In!, the Bill Gates & Steve Jobs docudrama Pirates of Silicon Valley, and the theme for HBO's critically acclaimed Larry Sanders Show. He also produced hit soundtracks for several films including Miramax's Scary Movie franchise, Warner Bros' Anne Rice vampire trilogy, and New Line Cinema's all-time hip-hop classic, Friday, selling over 6 million records and contributing to well over a billion dollars in box office revenues. Together with his non-profit, EarthTones, Fitzpatrick's work now focuses on creating music and film projects that make a positive contribution to our world.
About EarthTones:
EarthTones is a California 501c3 non-profit arts organization committed to raising social consciousness and connecting people across the globe through the power of music and media. It uses revenues generated from corporate sponsors, music sales and donations to develop multimedia projects with a positive intention to bring about social change. EarthTones also works to create partnerships with like-minded companies, organizations, filmmakers, recording artists and others that are working to connect and inspire people on a large scale.
# # #