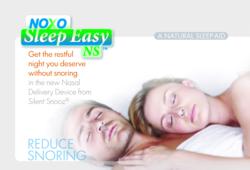 Wynnewood, PA (PRWEB) June 15, 2011
Behavioral Science, Inc., a subsidiary Olfactory Biosciences Corp. (OTC Markets: OLFC) announced today that it has launched the first sleep aid and no snoring product, NOXO Sleep Easy NS™. The company also announced the new web site at http://www.sleepnosnore.com.
"NOXO Sleep Easy NS™ provides me with the quality sleep I need to be refreshed and energized in the morning" said Greg VanAlfen, Director of Marketing.
The new all natural, non-drug product utilizes a unique nasal delivery device from Incredible Scents, Inc. ( ISI ), which also stops snoring by applying slight pressure on the trigeminal nerve in the nose.
Behavioral Science manufactures and distributes a new advanced line of NOXO Wellness products in combination with ISI's popular enhanced nasal delivery system. The company has the only product line of its type and will be the leading producer of non-invasive behavioral modification and wellness products that provide relief to common health problems such as smoking cessation or weight control, and memory enhancement, as examples.
Behavioral Science, Inc. uses NOBEL Prize Winning science related to discoveries of odorant receptors in the nose and the organization of the olfactory system, and has developed unique NOXO Health and Wellness Products that are drug free, affordable and made from all natural ingredients.
NOXO Sleep Easy NS™ is a proprietary formulation of Phytonutrients and Phytochemicals that are combined in ISI's new and advanced nasal device. The new Behavioral Science Brand product line is well proven and will be successfully marketed to distributors starting July.
ABOUT OLFACTORY BIOSCIENCES CORP
Olfactory Biosciences Corp.'s NOXO division is focused to develop a variety of products targeting Olfactory Receptors for the desired effect. These alternative medicine wellness products may modify behavior or provide relief to common health problems such as smoking cessation or weight control, as examples. The company has taken NOBEL Prize science related to discoveries of odorant receptors in the nose and the organization of the olfactory system, and has developed unique wellness products that are affordable and made from natural ingredients. Olfactory Biosciences Corp. offers the most advanced and innovative wellness products with the potential to change the way we approach wellness issues today. Olfactory Biosciences Corp's unique advantages will make the new Behavioral Science products the most sought-after wellness products in the alternative medicine market, creating a growth rate ten times higher than most in the this growing category.
Consumers concerned about their health are looking for alternatives to replace conventional, over-the-counter consumer medical products. Behavioral Science will provide natural wellness products that are both effective and affordable. http://www.noxoinfo.com
ABOUT INCREDIBLE SCENTS, INC.
Incredible Scents, Inc. has over a decade of experience in marketing its existing product line and will continue with the new unique line through Behavioral Science. With positive feedback already received from retail buyers as well as several hundred thousand customers, the new product line launch is directed through U.S. retail chain stores. Wholesale Representatives will soon implement an aggressive direct marketing program to Internet and Retail consumers.
Incredible Scents product line is presently available in most Major Drug Chains and Independent Drug Stores nation wide including all CVS, Rite Aid, Duane Reade, Wakefern (Shoprite supermarkets), Cardinal Health, The Vitamin Shoppe, McKesson, Shoppers Drug Mart (largest drug chain in Canada) and many smaller nationwide drug chains. http://www.incrediblescents.com
Investor & Media Relations:
Tel: 951-657-8840
email: ir(at)wsmg(dot)biz
Safe Harbor for Public Companies
Statements contained in this release that are not strictly historical are "forward-looking statements." Such forward-looking statements are sometimes identified by words such as "intends," "anticipates," "believes," "expects," and "hopes." The forward-looking statements are made based on information available as of the date hereof, and the Company assumes no obligation to update such forward-looking statements. Editors and investors are cautioned that such forward-looking statements involve risks and uncertainties that could cause the Company's actual results to differ materially from those in these forward-looking statements. Such risks and uncertainties include, but are not limited to, demand for the Company's products and services, our ability to continue to develop markets, general economic conditions, our ability to secure additional financing for the Company and other factors that may be more fully described in reports to shareholders. Olfactory Biosciences Corp., "The Company" currently does not file periodic filings with the Securities and Exchange Commission but will publish financials on the Olfactory Biosciences Corp. website as they become available.
Richard Stevenson
Olfactory Biosciences Corp., Inc.
333 E. Lancaster Ave.
Suite 317
Wynnewood, PA 19096
USA
Phone: 484-278-1626
###