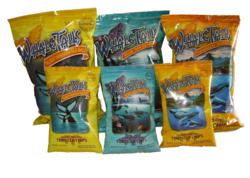 "We are really excited by the responses we've received from local buyers when they taste them," says Kraszewski. "The Hawaiian Barbeque chips are downright habit forming"
San Diego, CA (PRWEB) June 15, 2011
Just in time for summer beach parties and backyard barbeques, Whale Tails Tortilla Chips introduces two new flavors, Hawaiian Barbeque with sun-ripened mango and Blue Corn infused with Chia, to its already popular line of organic corn tortilla chips shaped like whale tails.
"These new flavors continue the tradition of using only natural, organic, gluten-free, non-GMO ingredients to fulfill the consumer's quest for delicious, healthy snacks," said Ric Kraszewski, Vice President of Sales for Whale Tails Tortilla Chips.
The exciting new Hawaiian Barbeque flavor combines hints of savory island barbeque with a trace of tropical sun-ripened mango and a splash of lime, creating just the right amount of zest to satisfy the palette. "We are really excited by the responses we've received from local buyers when they taste them," says Kraszewski. "The Hawaiian Barbeque chips are downright habit forming"
By adding a Blue "Torchia" chip to the flavor lineup, Whale Tails Tortilla Chips takes healthy snacking to a whole new level. Infusing organic blue corn with the rediscovered ancient Mayan super seed Chia, adds a healthy punch and a wonderful nut like flavor to a delicious deep-blue organic corn chip. Chia contains higher amounts of omega-3 than any other vegetarian source, all essential amino acids, and five times more calcium than milk. Both new flavors, as well as the original Hawaiian Sea Salt, will be packaged in bags displaying colorful works of marine art.
"As part of our newly announced partnership with the Wyland Foundation, each tantalizing flavor comes in a bag featuring original art by world-renowned marine artist Wyland," said Kraszewski. "
"Enjoying our chips contributes to a healthy planet. A portion of every bag purchased is donated to the Wyland Foundation which is dedicated to promoting, protecting, and preserving the world's ocean, waterways, and marine life," Kraszewski proudly stated.
This summer dive into a healthy organic snack that combines whale tail flair with ocean care. The new chips are sold at Whole Foods in Southern and Northern California, many aquariums and local specialty stores. To find a store selling Whale Tails Tortilla Chips near you, visit http://www.whaletailschips.com.
About Whale Tails Tortilla Chips
Whale Tails Tortilla Chips, a rapidly growing California organic snack food company, was founded in 2006 and is quickly adding retail accounts after being featured as Snack of the Day on Rachael Ray, along with a segment on the Food Network's popular series: "Road Tasted with the Neelys." Whale Tails was selected as the 2010 funding recipient of the Whole Foods Local Producer Loan Program for meeting their high standards of business practices in creating and distributing the most innovative new brand of organic tortilla chips on the market today.
More at http://http:http://www.whaletailschips.com
Follow on Twitter at https://twitter.com/whaletailschips
About Wyland:
Marine life artist Wyland has done more than any other artist to raise awareness of the beauty of life on our blue planet. His Wyland Foundation is actively engaged in teaching millions of students around the country about our oceans, river, lakes, streams, and wetlands. He is an official artist for the U.S. Olympic team, hosted his own shows on Discovery Channel, PBS, and is perhaps best known for his Whaling Wall murals, a series of monumental environmentally themed artworks that are seen by more than one billion people every year. http://www.wylandfoundation.org/.
###