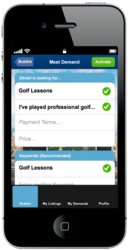 San Diego, CA (PRWEB) June 29, 2011
In a world of instant gratification, real-time mobility has become one of the most powerful tools in technology and networking. The most recent way to take advantage of this is through MoBubble, short for "mobile bubble." MoBubble is a new classifieds mobile application set to launch this summer and will offer unique work opportunities and alternative income possibilities in a challenging economic market. MoBubble is a GPS based application that gives each user a personal market to buy and sell within their central area.
MoBubble was created to help stimulate local economies with freelance work, services, and goods. For example, if one MoBubble user is offering piano lessons, or a landscaping service, and another user within a close radial area is looking for one of these services, the two users will be connected. The application has built-in messaging and payment, user reputation, listing reputation, seller-ratings, buyer reputations, and notification systems to aid in an easy and successful process of buying and selling.
MoBubble creates an alliance between the buyer and seller, both benefiting one another. It is an efficient tool for those who have a talent they would like to utilize. Can you teach a foreign language? Cater an event? MoBubble offers people the chance to do this by connecting each user with matching onlookers within their mobile bubble.
"For the first time ever, you can see what people have to offer and what they want to purchase, all from the same screen. Whether you're offering something or looking for something, people all around you are interested. MoBubble finds those people for you," says MoBubble CEO and Co-Founder, Stephen Boyd. "We're excited to finally get to market, but more than anything we're excited for what we have in store."
The constant demand for technological advancements in the mobile field have provided a foundation for GPS based applications, which have become the chosen method, not just for communication, but for a convenient and responsive way of living. That is why when you move, so does your mobile bubble. It is uniquely personalized to you and works in real-time, so it is constantly being updated. And, since data consumption is up 89% in the past year*, there is plenty of opportunity to go around.
MoBubble, Inc. is composed of a small team inspired to create opportunity and make a positive impact on the stagnant economy. The platform is a safe and secure application that will be free of charge and available for download this summer; it is currently undergoing BETA testing. MoBubble is based out of San Diego, California. Please visit http://www.mobubble.com to join the BETA, or contact stephen(at)mobubble(dot)com for more information.
###