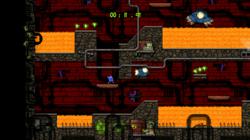 Redmond, WA (PRWEB) June 15, 2011
VALCON GAMES today released its original game – The Adventures of Shuggy, a new Xbox LIVE® Arcade game for the Xbox 360® video game and entertainment system from Microsoft. "Adventures of Shuggy" is part platformer, part puzzler, and 100 percent pure type-O positive fun. Shuggy boasts a suite of novel play mechanics that are mixed and matched throughout 116 unique single-player levels, each with their own clever twist. Grab a friend and play alongside Shuggy as one of his cute relatives in Co-Op mode, or go head-to-head over Xbox Live in a competition for gems!
Each room offers its own type of puzzle and tutorial. The mechanics are varied and can change from room to room. They range from time travel, to twisting rooms, to rope pulleys that need to be used strategically, to Shuggy growing and shrinking by drinking potions, and much, much more.
In addition to the massive number of single-player levels, The Adventures of Shuggy also offers 36 co-operative levels for Shuggy and another fangy friend for single-console play. Developed and designed by Smudged Cat Games, The Adventures of Shuggy also offers 2-player competitive matches over Xbox LIVE, or on a single-console.
"The Adventures of Shuggy is one of those games that takes you back to why you like gaming in the first place – pure simple fun. Shuggy is perfect for any level of player and with 116 levels, plus a co-op and competitive mode, the twists and puzzles are endless" said Colin Gordon, co-founder of Valcon Games.
The Adventures of Shuggy's key features include:

116 challenging puzzles in single-player mode
36 co-operative levels on a single console
2-player competitive matches over Xbox LIVE, or on a single console
Art style that will appeal to all ages
Retro style platform puzzler with an exciting variety of new puzzle/game mechanics
Tutorial system for teaching new in-game mechanics
Supporting Resources:

About Valcon Games, LLC
Headquartered in Redmond, WA, Valcon Games LLC is video game publishing company that delivers unique and creative software for the Nintendo DS, Wii, Sony PlayStation®2 computer entertainment system, PSP® (PlayStation®Portable) system, PlayStation®3 computer entertainment system and the Xbox 360®video game and entertainment system from Microsoft. Valcon Games approach to product is similar to that of the 'indie' movie scene. With low overheads and an efficient publishing model, Valcon Games can help bring products to the U.S. market that might otherwise be overlooked. The company was co-founded by industry veterans Colin Gordon and Glenn Halseth.
About Smudged Cat Games Ltd
Based in the UK, Smudged Cat Games was founded in 2007 by David Johnston to design and develop games for home consoles. The company is dedicated to pursuing original concepts to create new and interesting games that you won't find anywhere else. Follow us on twitter at http://www.twitter.com/SmudgedCat or find us on Facebook at http://www.facebook.com/SmudgedCat.
# # #