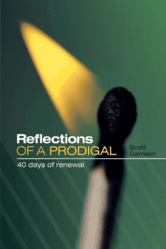 Fishers, IN (PRWEB) June 16, 2011
Scott Garrison's parents were foreign missionaries and his father a pastor before going overseas. Despite being raised in a faithful household, he decided he wanted to abandon his faith and live his own life. Despite running as far away from God as he could, his faith always lingered in the background. Through a sequence of events, including the untimely death of his sister, he reestablished his relationship with Jesus, changing his heart forever.
In his new book, Reflections of a Prodigal: 40 Days of Renewal (published by WestBow Press), Garrison details his journey back to Christ along with his early years as a missionary in Africa with his parents.
"Experiences in my life and how God has taught me through those experiences led me to write this book," said Garrison. "A few of my friends read some of my previous writings, telling me I had a good book on my hands."
In the book, Garrison talks of his life as a high school student in Africa. Returning to the States, Garrison transferred to the same college as his sister, where the two grew closer. Graduating with a degree in criminal justice, Garrison chose a career in law enforcement. It was this decision that began a spiral that would lead him away from Christ and into a life he described as "a perfect breeding ground" for his own rage.
As he indulged in women and drink, Garrison's only defender within his family was his sister Katrina. When she died of a congenital condition suddenly, his faith was tested to its limits. However, while grieving in a chapel over the loss of his sister, he found a measure of comfort, as if God was in the room with him. Soon after, a men's retreat would serve to fully restore his faith, leading him to write this book.
Reflections of a Prodigal: 40 Days of Renewal is Garrison's testament to his restored faith in our Lord and Savior Jesus Christ. Using the biblical significance of the number 40, the book includes 40 writings, individually written over the course of 40 days. This is a book for anyone who wants to feel the light of God's love, and hear the story of a man who truly found renewal in the arms of Jesus.
About the Author
Scott Garrison has proudly served as a police officer for 15 years. During his law enforcement career, he has been a SWAT operator, having assignments in narcotics and vice. Scott currently lives and works in Indiana. This is his first book.
WestBow Press is a strategic self-publishing alliance of Thomas Nelson, the world's premier Christian publisher, and Author Solutions, Inc. (ASI)—the world leader in the fastest-growing segment of publishing. For more information, visit http://www.westbowpress.com.
###