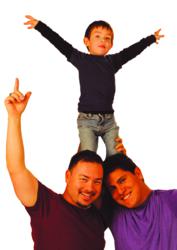 The gay and lesbian community is an underutilized source of potential foster and adoptive parents for our children."
Los Angeles, CA (PRWEB) June 15, 2011
This Sunday, June 19, 2011, the Pop Luck Club, an LA-based organization of gay dads, will orchestrate the area's largest Father's Day celebration to encourage the gay community to consider their options in parenting and building families.
The Sunday brunch celebration will take place at The Abbey, a West Hollywood dining institution and will feature the Heart Gallery LA—a photo display of children in the foster care system in need of a family—as well as a book signing by Fox 11 news anchor Christine Devine, whose "Finding a Forever Family" was inspired by her on-air "Wednesday's Child" news segments. There will also be information tables with representatives from the L.A. County Department of Children and Family Services (DCFS) and the L.A. Gay & Lesbian Center's Family Services Program.
Rich Valenza, co-president of the Pop Luck Club, sees this collaboration as groundbreaking. He says, "Many gays and lesbians do not realize that we can create our families through fostering and adoption. Bringing these resources to The Abbey, our community's favorite hot spot, will inspire prospective dads and moms to take the next step as they plan their families."
Bryan Miller, a Supervising Children's Social Worker with the County, explains why they are reaching out to the gay and lesbian community. He says, "On any given day, we have about 500 children in L.A. County who are in need of safe, permanent homes. The gay and lesbian community is an underutilized source of potential foster and adoptive parents for our children."
"It's a perfect time for new parents, as well as families considering adding a sibling, to consider fost/adopt," says Tannia Esparza, Family Advocate for the L.A. Gay & Lesbian Center's Family Services Program. She adds, "We offer support throughout the parenting process. It gives me great pleasure to see so much joy come into the lives of our LGBT parents and to see their children thrive."
Founded in 1998 by a group of prospective gay dads, the Pop Luck Club has grown to become the largest known gay fathers group in the world. It has hundreds of members from across Southern California and recently celebrated the birth of its 500th child.
In 2009, the L.A. County DCFS' Adoption and Permanency Resources Division earned the Human Rights Campaign's "All Children – All Families Seal of Recognition" for it's excellence in serving LGBT families.
The event runs from 11:00 a.m. – 3:00 p.m. on Sunday, June 19, 2011 at The Abbey, 692 North Robertson Blvd, West Hollywood.
For more information, visit:
http://www.PopLuckClub.org
http://www.ShareYourHeartLA.org
http://www.LAGayCenter.org
http://www.AbbeyFoodAndBar.com
# # #