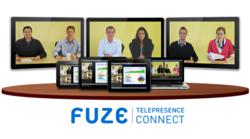 San Francisco, CA (PRWEB) June 15, 2011
FuzeBox, the leader in cross-platform visual collaboration, today announces the launch of its latest Telepresence product: Fuze Telepresence Connect. Fuze Telepresence Connect seamlessly integrates the leading telepresence systems -- including Polycom, Tandberg and LifeSize -- while also extending video conferencing and voice to any mobile device or computer through integration with Fuze Meeting, its web conferencing and video conferencing collaboration platform.
Until now, high end video conferencing has been limited to telepresence suites and executive boardrooms. Fuze Telepresence Connect is the world's first telepresence gateway for H.323, SIP and H.264 that links high end telepresence systems to a personal device such as iPad, Android and Honeycomb tablets, as well as PCs and Macs.
"Considering the massive market adoption for enterprise-grade collaboration tools, there is a strong user need for vendors to connect such solutions," Roopam Jain, principal analyst at Frost & Sullivan said.
By leveraging the FuzeBox Cloud, companies can use Fuze Telepresence Connect to extend their expensive fixed site, telepresence systems to all of their employees in an extremely cost effective way. Fuze Telepresence Connect enhances the productivity of the mobile workforce by leveraging the value of fixed location conferencing systems across both fixed and mobile employees.
"Fuze Telepresence Connect has the potential to change IT investment strategies as more enterprises look to expand the potential of existing solutions while layering on the ability for mobile collaboration," Bradley Shimmin, principal analyst at Current Analysis said.
"We're bringing down the barriers in business collaboration," said Jeff Cavins, CEO of FuzeBox. "The telepresence industry has thrived with proprietary multi-million dollar systems, which do not scale economically, and are unusable for most everyone other than executive staff. Today the telepresence landscape changes, and for the first time, organizations can fully realize the ROI from their existing telepresence systems, by enabling sales and operations teams to have video telepresence meetings with partners, suppliers and remote teams utilizing virtually any mobile tablet, MAC or PC."
Fuze Telepresence Connect is designed to make conducting video meetings simple and intuitive, yet it's powerful enough to connect enterprise users face-to-face on any high end telepresence screen with a full suite of collaboration tools at their fingertips. By integrating telepresence into FuzeBox's immersive Fuze Meeting SaaS suite, telepresence users have access to simultaneous real-time collaboration tools brought together in an elegant and intuitive user interface across all personal devices.
Features and Benefits of Fuze Telepresence Connect:
Scalable multi-party HD video conferencing - High resolution and high frame rate encode and decode at multiple frame rates and resolutions.
Standards-based coding technology - H.264/AVC/SVC based
Error resilience - Maintains continuous high-quality video without broken pictures or other artifacts in environments with high packet loss
Resolution and rate matching - Supports sending video to multiple endpoints with different bandwidths and resolution capabilities without transcoding
Dynamic rate control - Automatically and continuously senses the current network condition and adjusts bit rates accordingly
Error localization - Individual client network errors do not affect other conference participants
Built-in investment protection - Allows for the incorporation of legacy video conferencing equipment
Firewall/NAT traversal - Embedded functionality that provides a safe and secure connection through any firewall with no feature loss and no additional equipment required
Easy to use web-based interface - A consistent environment across endpoints with single-click action buttons
Personal Video Layout - Gives each user independent control over received video layout – as opposed to one prescribed layout for all in MCU-based system
Interested customers can learn more about the FuzeBox Telepresence Connect by contacting sales(at)fuzebox(dot)com or by going to http://www.fuzemeeting.com.
ABOUT FUZEBOX:
FuzeBox is the global leader in real time visual collaboration applications for millions of end users across various businesses. Its applications - Fuze Meeting and Fuze Messenger allow people to communicate, collaborate and share content from any device, across any network, anywhere in the world. Fuze Meeting is a mobile and web-based collaboration service that features integrated audio conferencing as well as high- definition, synchronized video and image sharing. The company's technology is based on a real-time visual communications platform that converges telephony, high-definition, synchronized video and image sharing across the enterprise, the web and mobile networks. FuzeBox has been awarded 23 patents and with 42 more pending in the fields of telephony, web and visual media technologies to transform how professionals and individuals communicate. For more information, please visit http://www.fuzebox.com
FuzeBox technologies and services are protected by US Patent No.'s 6,477,246; 6,738,461; 6,879,677; 6,898,275; 6,968,174; 7,103,167; 7,266,185; 7,292,841; 7,297,910; 7,308,081; 7,363,428; 7,409,048; 7,460,653; 7,508,927; 7,555,110; 7,688,958; 7,742,586; 7,818,734; 7,822,188; 7,839,987; 7,852,749; 7,907,933
###