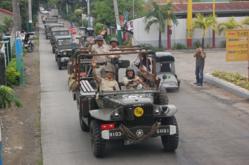 Bulacan, Philippines (PRWEB) June 28, 2011
The original Willys jeeps survived the bombs, bullets and rigors of World War II. This is perhaps the reason why an impending storm that brought with it strong gusty wind and rain could not dampen the spirit of some 35 jeep enthusiasts who converged at the recent Bulacan Jeep Meet at Plaridel, Bulacan in the Philippines last May 28, 2011. Some 15 of them even brought along their trusty, old, reliable vintage jeeps to open the Jeep Meet with a motorcade.
Romulo Lastimosa of the Nueva Ecija group said it was as if time stood still. "The sight of a long, green line of meticulously-restored vintage military vehicles brought back memories of World War II where the Filipinos and the reliable Willys Jeeps played a very big role in the Pacific theater of the war", he said.
Even the date chosen for the meet, May 28, was filled with nationalistic pride. It was Philippine National Flag Day which commemorates the date when the Philippine flag was first unfurled after the Philippine revolutionary Army defeated the Spanish forces in the Battle of Alapan in 1898. May 28 also marks the start of the celebration of National Flag Day which extends until June 12, the Philippine Independence Day.
The Bulacan Jeep Meet was organized by the Philippine Jeep Preservation Association (PJPA). Nestor Guevarra of the Pampanga group said that the PJPA has the objectives of supporting the passion of jeep lovers and restorers for their vintage jeep, bringing back fond memories of the daring men and machine of WW II, sharing their experiences and uniting all jeep enthusiasts under one umbrella organization, starting with those in Metro Manila and Luzon.
The Bulacan Jeep Meet was just a start. "From hereon, the PJPA hopes to make this Jeep Meet a regular event, complete with a motorcade, a jeep and parts exhibit, parts swap or procurement, a boodle fight (eating as a group military style), fun games, fellowship and a raffle of exciting gift prizes", adds Mr. Guevarra.
Bayani Aniceto of the Bulacan group, himself a jeep restorer since 1968, said that Jeep Meets like this are nostalgic moments. "The jeep has not only won the war for the Americans and the Filipinos, it also won the hearts of the Filipino masa, long after the war is over", he concludes.
Indeed, no romance is as enduring as a Filipino's love for the jeep.
###