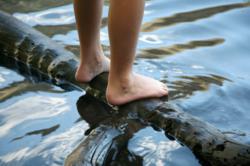 Zurich, Switzerland (PRWEB) June 15, 2011
The new Pürovel Spa & Sport centres reflect Swissôtel's commitment to natural materials and resources such as stone, wood, water and flowers and are a reminder of the pure nature and invigorating mountain air of the Swiss Alps. It is an approach which makes sure guests do not forget they are staying in a hotel group with Swiss roots. "Health and natural vitality are perfectly synonymous with Switzerland," explains Lilian Roten, Vice President Operations at Swissôtel Hotels & Resorts. "There is virtually no other country in the world that can compete with Switzerland's unique and unspoilt environment and its healthy climate."
Pürovel signature massages are carried out using essential oils produced in Switzerland made from local herbs such as lemon balm, wild bergamot, clary sage, lavender and douglas fir. Pressed rapeseed oil was chosen as a base because of its high level of unsaturated fatty acids and its special effectiveness in working the active ingredients into the skin. Both Pürovel signature massages and the corresponding sports programme are designed to invigorate and vitalise body and soul in harmony with the four seasons. Spring is the season of new life and renewal as well as the time of preparation. While summer represents the peak of activity to improve performance, autumn stands for cooling down and regeneration prior to winter, a time of rest and relaxation. "The rhythm of the four seasons in our native Switzerland inspired us to choose this approach, which focuses on restoring the balance between body and soul," adds Lilian Roten.
The new brand name Pürovel Spa & Sport is also a reference to the origin of the Swissôtel Hotels & Resorts: it is a creation which has its roots in Romansh, the fourth national language of Switzerland, and means "pure, gently flowing mountain stream".
The new Pürovel Spa & Sport includes a range of Pürovel body care products, which can also be found in the rooms of the Swissôtel chain and contain only ingredients from Switzerland. Moreover, all Pürovel products are available for purchase in the "Swissôtel at home" online shop (http://www.swissotelathome.com).
Some of the hotel chain's existing spas, such as those in the Swissôtel Krasnye Holmy in Moscow and the Swissôtel Tallinn, have already been converted into Pürovel Spa & Sport centres. More are set to follow in other Swissôtel locations in the near future. New hotels such as the Swissôtel Dresden will work exclusively with the Pürovel brand right from the start.
###