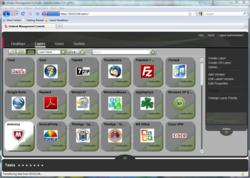 We can respond faster with the latest software, so... when our engineering department goes into 'flood mode' answering emergency calls, we know they will have the latest desktops at their disposal. - David Dunaway, TRWD IT Infrastructure Analyst
Marlborough, MA (PRWEB) June 15, 2011
Tarrant Regional Water District (TRWD) of Fort Worth, Tex., an award-winning pioneer in regional water conservation efforts and one of the earliest implementers of Virtual Desktop Infrastructure (VDI), is expanding its non-persistent virtual desktop deployment with persistent virtual desktops that can support employees and consultants who require a modern, user-configurable desktop experience. All persistent and non-persistent desktops will be provisioned and managed by Unidesk® VDI management software. Unidesk will enable the district to more easily distribute, patch, and manage applications and Microsoft Windows operating system updates, while maintaining each user's profile settings, user-installed applications, and plug-ins. VMware View™ virtual desktop brokering software, successfully used by the district for three years, will continue to give TRWD employees and consultants secure, high performance access to their virtual desktops.
"While the premise of VDI is well-grounded, we were finding our virtual machines were being slowed by remnants of old software, while our IT administrators were challenged by still having to manage dozens of images -- one or more for each department," said David Dunaway, TRWD Information Technology Infrastructure Analyst. "We also had to deal with profile management complexity. Now, with Unidesk's desktop layering technology added to VMware View, our VDI environment is much simpler. We can respond faster with the latest software; so, for example, when our engineering department goes into 'flood mode' answering emergency calls, we know they will have the latest desktops at their disposal. And our users will be happier because their desktops are fully personalized."
TRWD's VDI Journey
TRWD began using desktop and application virtualization technologies three years ago to "go green," reduce hardware costs, and share resources among employees. The first virtual desktops were thick-provisioned as full clones, each desktop consuming a full copy of the Microsoft Windows operating system and common applications. As the virtual desktops became more popular, however, rising SAN costs quickly became an obstacle to expansion. The IT staff also found desktop management and support costs were not lower because dozens of different images had to be created and managed to meet the varying application needs of TRWD staff.
The IT organization shifted to non-persistent virtual desktops and implemented cloning technology to minimize storage costs and simplify OS management, but TRWD workers would not accept desktops that didn't preserve their customizations. Profile management was added to keep user customizations, but the IT team found it was complex to administer, and did not sustain the applications and plug-ins that were installed by TRWD workers.
The Addition of Unidesk
A major new project – the construction of a $2.3 billion integrated pipeline in partnership with the City of Dallas – has meant some 100 consulting engineers will intermittently join the district and may log on to the TRWD network, making it even more important to control, manage, and support different types of desktops. TRWD's IT team used this as the opportunity to expand its VDI implementation.
After surveying the latest VDI technologies, TRWD chose Unidesk as its virtual desktop management platform. By virtualizing and managing every part of the desktop as independent layers-- including user persona, applications, and the operating system – Unidesk eliminates the cost and complexity of integrating point tools for application virtualization, profile management, PC configuration, and storage de-duplication.
"With Unidesk, we can create layers for different types of users, then deploy the appropriate applications, patches and repairs once, whether the desktop is for a power user in the engineering department, a help-desk provider, or a consultant or partner working on the pipeline project," said Dunaway.
Dunaway adds that with Unidesk layers, the IT team can be assured that desktops are fresh and clean with the latest IT-assigned updates, even while preserving user configurations.
Dunaway also cited the storage savings from Unidesk as a key benefit. "By sharing a single layer of Windows and applications like Microsoft Office across many virtual desktops, we're seeing the same storage reduction with Unidesk that we saw with our non-persistent desktops based on a single cloned image. Yet, now, each user's persona is preserved."
Dunaway concluded, "We think we now have the ideal VDI combination in Unidesk and VMware View. We expect to be able to support virtually any type of use case, while reducing desktop support costs, keeping storage costs down, and gaining better overall manageability."
About Unidesk
Unidesk® Corporation (http://www.unidesk.com) enables customers to centralize more desktops on data center servers and realize the full potential of Virtual Desktop Infrastructure (VDI). Unidesk's patent-pending desktop layering technology works with VDI access solutions such as VMware View™ and Citrix® XenDesktop® to sustain all desktop customizations for end users, while enabling IT to provision and patch all desktops from a single set of shared operating system and application images. By creating uniquely personal, storage-efficient, and easy-to-manage virtual desktops on VMware infrastructure that can satisfy almost any use case, Unidesk VDI management software reduces IT operations costs up to 80%, cuts data center storage costs up to 70%, and fosters a more productive, agile workforce. Unidesk Corp. is a privately-held company with headquarters in Marlborough, Mass, USA.
VMware, VMware View, and VMware vSphere are registered trademarks and/or trademarks of VMware, Inc. in the United States and/or other jurisdictions. Unidesk® is a registered trademark of Unidesk Corporation. All other trademarks and registered trademarks are property of their respective owners.
###