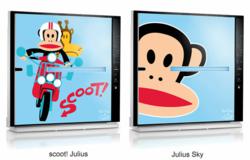 Los Angeles, CA (PRWEB) June 21, 2011
Rabbit Air Purifiers announces the release of its MinusA2 Paul Frank Edition Ultra Quiet Air Purifier, a variation on its most popular model, but with the friendly face of Paul Frank Industries' lovable monkey Julius.
This special edition air purifier offers Rabbit Air's impeccable filtration with an adorable mascot. Choose between an image of Julius against a sky blue background or a playful picture of the monkey riding a scooter with his best friend, Clancy the giraffe.
The HEPA air purifier covers up to 815 sq. ft., features six stages of filtration, and does not produce ozone. Choose between a variety of customized filters, including Germ Defense, Pet Allergy, Toxin Absorber, and Odor Remover. Rabbit Air's Paul Frank Edition Ultra Quiet Air Purifier can be mounted on the wall or will stand alone on the ground.
Rabbit Air's MinusA2 Paul Frank Edition Ultra Quiet Air Purifier starts at $589.95 and is available at http://www.rabbitair.com,
ABOUT RABBIT AIR
Rabbit Air is a Los Angeles-based company that plays a revolutionary role in the air purification industry, providing environmentally friendly products with design in mind. Dedicated to designing state-of-the-art products that are highly effective, energy efficient and affordable, Rabbit Air's purifiers are all based on HEPA filtration technology and do not produce ozone.
ABOUT PAUL FRANK INDUSTRIES
From its modest beginnings as a lo-fi accessories company in a SoCal beach town garage, Paul Frank Industries has steadily grown into a globally recognized, iconic brand. Creating relationships through exciting collaborations and strategic licensing partnerships, today Paul Frank merchandise includes apparel and accessories for all ages, books, stationery, eyewear, home décor, bicycles and more. Paul Frank Industries features artistic and entertaining designs inspired by their love of avant-garde, modern influences and everyday objects. Paul Frank products are available at world renowned retailers including Nordstrom, Bloomingdales, Macy's, Fred Segal, Colette, Selfridges, Beams and flagship Paul Frank store locations. To see what's new and exciting at Paul Frank Industries, visit paulfrank.com.
###