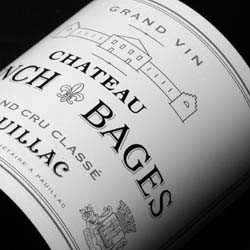 Lynch-Bages really has its own personality as it is also a generous, opulent and rich wine.
New York, NY (PRWEB) June 16, 2011
Popular Bordeaux classified growth, Chateau Lynch-Bages, announced the prices of its 2010 wines today. The Pauillac Fifth Growth property has received top scores from Robert Parker (95-97), James Suckling (98-99), and Wine Advocate critic, Neal Martin (95-97).
"The 2010 Lynch-Bages is made up of 79% Cabernet Sauvignon, 18% Merlot (matching the highest proportion since 1995) and a minor addition of Cabernet Franc and Petit Verdot," said Roger Bohmrich, master of wine and general manager of Manhattan-based fine wine merchant Millesima USA LLC, who tasted the 2010 Bordeaux wines during En Primeur week in early April 2011. "This classic Lynch-Bages is broad, dense and brooding but also pure and high class. It has the makings of a great Lynch-Bages."
Chateau Lynch-Bages takes its name from the Irish Lynch family who immigrated to Bordeaux in the late 17th century. In 1939, it was purchased by the Cazes family, who have continued to run the chateau.
"Lynch-Bages is a Pauillac which is part of the tradition of the finest Pauillac wines. That is to say, wines which are principally made using cabernet sauvignon, which has great potential for longevity, to create robust, elegant and powerful wines," says owner, Jean Charles Cazes. "In this Pauillac family, Lynch-Bages really has its own personality as it is also a generous, opulent and rich wine."
Interested wine consumers can purchase the 2010 Lynch-Bages wines through the Millesima USA website.
Other notable 2010 Bordeaux Grand Cru Classe wines released today include: Chateau Branaire Ducru (Saint Julien), and Chateau Montrose (Saint-Estèphe).
For complete coverage of the 2010 Bordeaux Futures campaign, visit the Millesima USA website to view video tasting reports and wine recommendations at http://www.millesima-usa.com/media-events/wine-videos.html.
About Millesima USA
New York wine shop, Millesima USA, specializes in classified growth Bordeaux wines and French wine futures. Unlike most wine merchants, we purchase our wine directly from the producing estates. This means your wine only changes hands 3 times: from the estate to us and from us to you. We guarantee the highest quality standards for wine storage, shipment, and customer service so buy with confidence.
Millesima USA LLC is located in Manhattan's Upper East Side at 1355 2nd Ave, New York, NY 10021.
# # #