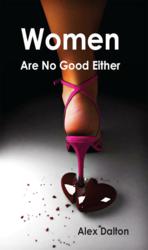 Houston, TX (PRWEB) June 17, 2011
Alex Dalton, author of the new book Women Are No Good Either, says too many women have a negative view of men today, and it's causing them to give up hope that they'll ever find someone to marry. He argues that women should stop calling men "dogs" and learn to judge men individually in a more positive light. "For years, I've heard women talk about how sad the dating scene is," said Dalton. "Ask any man, and he'll tell you that finding a good woman is just as hard."
Dalton wrote Women Are No Good Either to disprove the notion that all men love to cheat and break the rules in relationships. According to Dalton, men are dishonest with women who encourage them to be dishonest. Therefore, women are partly to blame for their own problems with men. "Think of all the men who have been dumped for being too nice," said Dalton. "Those guys can't win with women."
Single and married men share their true stories in the book, all of which illustrate how unfair women can be to men in various situations. It gives an often comical explanation of things women typically do to provoke men.
Dalton believes there aren't enough relationship books written from a male perspective on the market. "Men are afraid to write negative things about women because they don't want to be called sexist," said Dalton. "Women get together on talk shows and bash men all the time. Why can't men respond?"
The book is not intended to offer advice. Dalton claims that both genders will find the book entertaining, but he believes most women will disagree with it. "Some women will read it and be in denial, but deep down, they know it's the truth," said Dalton.
Woman Are No Good Either was released by Createspace and is now available on Amazon.com for $8.99. The Kindle edition can be downloaded for $3.99. Visit WomenAreNoGoodEither.com to view the trailer.
About the author
Alex Dalton has been a top-rated radio personality for 15 years on stations in Houston, Pittsburgh, Detroit, and Austin, Texas. He is also a voice talent on several national commercials.
###