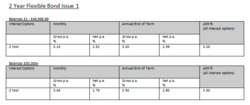 (PRWEB) June 15, 2011
Barclays today (Wednesday 8 June) launches the high street's first two-year flexible bond giving savers a competitive rate and the flexibility to withdraw up to 30 per cent of the balance without incurring any charges. The two year flexible bond pays a fixed rate of up to 3.50 per cent AER and will be the only type of its kind across all the major high street competitors.
The new, 2 Year Flexible Bond – Issue 1 will pay 3.50 per cent AER on balances over £50,000 – the maximum investment is £1,000,000. The bond will pay 3.20 per cent AER on balances below £50,000 – the minimum investment is just £1. The bond allows three withdrawals of up to 10 per cent (maximum 30 per cent) of the initial deposit without notice or charges, which means that someone investing £10,000 could withdraw a total of £3,000 over the two years without incurring any charges. The three withdrawals offer customers the peace of mind that they can access their money instantly in an emergency or ear-mark it for specific plans in the future.
Andy Gray, head of Savings at Barclays said: "The vast majority of fixed rate bonds on the market do not offer any flexibility without charge or notice; so many customers are losing out on good rates of interest because they are reluctant to lock their money away in case they need it. Previously, customers have had to choose between the higher rates of fixed rate bonds or the flexibility of instant access accounts. The Barclays Flexible Bond will give savers the best of both worlds – a competitive fixed rate and the flexibility of having access to a good proportion of their savings when they need it.
"With base rate staying lower for longer than expected and with no firm indication on when and how quickly rates will start to rise, savers are increasingly opting for fixed rate bonds. Fixed rates bonds have accounted for almost half of all new savings balances across the industry since October 2008 as savers strive to find ways to maximise the return on their savings."
Customers taking out the flexible fixed rate bond with Barclays can choose whether they want a regular monthly or annual income or grow their capital. New and existing customers can open their flexible bond instantly through a branch. In addition Barclays current account customers can apply online at http://www.barclays.co.uk/flexible or by telephone banking 0845 301 0333.
Barclays continues to offer a one year fixed rate bond paying 2.00 per cent p.a/AER with a minimum investment of just £500 and a five year fixed rate bond paying 3.50 per cent AER on balances £500 to £49,999.99 and 4.00 per cent AER on balances over £50,000.
The launch of the 2 Year Flexible Bond will be supported by a TV advertising campaign which will commence on 11th June and run for two weeks. Go online to find Barclays best savings rates
Notes to Editors:
The rates quoted are gross p.a. / AER for the end of term interest option.
Minimum deposit £1, maximum deposit £1,000,000
Monthly, annual and end of term interest payment options are available
UK residents aged eighteen years or over
No further deposits are permitted
Maximum of 3 withdrawals are permitted prior to maturity, each one up to 10% of the initial deposit
All 3 withdrawals (max 30% of the initial deposit) can be made on the same day
No withdrawal charges and no notice required.
Barclays is a major global financial services provider engaged in retail banking offering savings accounts, credit cards, business insurance, corporate and investment banking offering business bank accounts and wealth management with an extensive international presence in Europe, the Americas, Africa and Asia. With over 300 years of history and expertise in banking, Barclays operates in over 50 countries and employs nearly 147,000 people. Barclays moves, lends, invests and protects money for 48 million customers and clients worldwide.
For further information about Barclays, please visit our website Barclays.com.
###