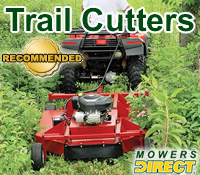 A trail cutter attaches to your ATV, lawn tractor or other utility vehicle and is designed to cut overgrown grass and brush
Bolingbrook, IL (PRWEB) June 15, 2011
Today MowersDirect.com announced its recommendations for the best trail cutters.
"If you have a large field that has turned into a briar patch, then consider getting a trail cutter." said Todd Gwaltney, resident product expert at Mowers Direct. "A trail cutter attaches to your ATV, lawn tractor or other utility vehicle and is designed to cut overgrown grass and brush."
A trail cutter is a tow-behind rough-cut mower that uses heavy-duty hardened steel swinging blades instead of a traditional rotating mower blade. These rough cut mowers can cut tree stems up to 3" in diameter and you can tow one on and off the beaten path.
Since its inception in 2008, the Web-only superstore has put together a collection of mowers unrivaled anywhere. Mowers Direct now carries more than 200 models of mowers and tractors from the top brands such as Ariens, Honda, Husqvarna, Snapper and Toro.
MowersDirect.com has sought to become the online authority for lawn tractors, riding mowers, walk-behind mowers and yard tools. The product experts at Mowers Direct have tirelessly tested and researched all the models to determine which ones stand out.
After weighing all the field tests, product research, and customer insights, the product experts recommended only 3 trail cutters.
Top Trail Cutters
Good: Swisher (44") 12.5 HP Tow Behind Trail Cutter - RTB12544
Better: Swisher (44") 14.5 HP Tow Behind Trail Cutter - RTB14544
Best: Swisher (52") 18.5 HP Tow Behind Trail Cutter - RTB18552
In addition, Gwaltney personally wrote recommendations for all the trail cutters that made the grade.
MowersDirect.com hopes to provide customers with enough information and expert insight to allow them to pick the perfect trail cutter for their lawn-care needs.
Power Equipment Direct operates nine niche online superstores. In addition to MowersDirect.com, the Bolingbrook, IL-based company operates AirCompressorsDirect.com, ElectricGeneratorsDirect.com, PressureWashersDirect.com, SnowBlowersDirect.com, WaterPumpsDirect.com, SumpPumpsDirect.com, ChainSawsDirect.com and LogSplittersDirect.com.
###