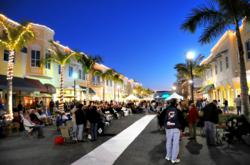 Lakewood Ranch is without a doubt the growth corridor in the region and the state right now
Lakewood Ranch, FL (PRWEB) June 15, 2011
Lakewood Ranch continues to buck state and national trends with several projects in the works over the remainder of 2011 that will infuse more than $100 million into the area.
A number of private groups will join Lakewood Ranch developer Schroeder-Manatee Ranch, Inc. (SMR) to bring a mix of homes, apartments, retail stores, schools and government offices to Lakewood Ranch, an area that has come back first in the real estate market and has already sold more than 170 new homes since the start of this year.
The projects include the 380 acre neighborhood by Neal Communities that will eventually be home to 800 families with a 150,000-square foot shopping center. Neal has already sold 125 homes since the community opened in July of 2010. The LECOM School of Dental Medicine just broke ground on its 110,000 square foot building expected to cost $52 million and to be completed in 2012. The Lost Creek apartment complex is well underway and will offer 272 apartments at a cost of about $30 million and the first residents will move in this December. This is the first new apartment complex to be built in Manatee County in the past 10 years. Esplanade, the ranch's first active adult community by Taylor Morrison is expected to break ground in August for sales to begin in early 2012 and will cost about $5 million to develop. These projects in addition to road improvements and several other smaller neighborhoods and office buildings in the works will make this area of Lakewood Ranch the fastest growing area in the state of Florida.
"Lakewood Ranch is without a doubt the growth corridor in the region and the state right now," said Brian Kennelly, LWR Commercial Realty President. "We are a pocket of normalcy in the region and are coming out of the recession first due to the strength, stability and value that this area provides to buyers and business owners."
The office space vacancy rate is consistently lower in Lakewood Ranch that in other areas in the region, with downtown Sarasota coming in at 13.67% vacancy, Bradenton coming in at 32.71% vacancy and Lakewood Ranch at 12.4%.
On Main Street, Lakewood Ranch's mixed use lifestyle center with restaurants, retail and family activities, sales are up 16 percent from this time last year and three new leases have been signed in the past 30 days. "The great thing about Main Street, that we envisioned from its inception, is that the residents here have really taken ownership of it," says Kennelly, "it is the Lakewood Ranch gathering place and is the place for families and friends to come together for events, dining or shopping—we believe its success is a testament to having the right mix and our continued commitment to improve and grow the street."
The development boom furthers SMR's goal of becoming a job center and economic hub with a mix of retail, residential and commercial properties intertwined with natural wetlands and preserves, making Lakewood Ranch the largest green certified master planned community in the country.
The 8500 acre master planned community—ranked number 2 in the state of Florida and number 12 in the country by national real estate consulting firm John Burns consulting, began construction and development back in 1995 closer to University Parkway but ranch leaders see the area seeing the most growth this year, just north of state road 70 to be the eventual heart of the community. Others like ranch builder and developer Pat Neal have dubbed that section of Lakewood Ranch "the center of the universe."
There are 17 new home builders in Lakewood Ranch, with 40 new home models for prospective buyers to see and it is currently home to about 15,000 people and 12,000 jobs. There are more than 7000 homes in the community but only about 50 new homes and 150 resale homes are on the market. "After a market downturn, when recovery begins, there is a flight to safety—people want to buy where their value is safe," said Milt Flinn, LWR Communities' president. "Nothing is safer than building in a master planned community. Lakewood Ranch is a safe bet." More than 160 homes are currently under construction in Lakewood Ranch, compared to about 80 this time last year. Watch our video blog.
Lakewood Ranch is the 8,500-acre award winning master-planned community in Sarasota and Manatee counties on the West Coast of Florida. Just minutes from the Gulf Coast beaches, and cultural assets in Sarasota, Lakewood Ranch is already home to more 15,000 residents and features A-rated schools, a hospital, the Sarasota Polo Club, its own Main Street with theaters, shopping and dining, and four million square feet of commercial property. For more information Visit http://www.lakewoodranch.com.
###