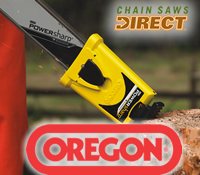 The PowerSharp is a revolutionary new product for chainsaws. Just attach it to your bar and turn on your saw and it will sharpen itself in seconds
Bolingbrook, IL (PRWEB) June 15, 2011
Today ChainSawsDirect.com announced it has added Oregon chainsaw accessories to its product offering.
With the inclusion of this new brand, ChainSawsDirect now offers a wider selection of chainsaw bars, chainsaw chains, chain saw sharpening equipment, safety gear, manual hand saws and an automatic sharpener called the PowerSharp System.
"The PowerSharp is a revolutionary new product for chainsaws. Just attach it to your bar and turn on your saw and it will sharpen itself in seconds," said Mike Cosgrove, product expert at Chain Saws Direct. "Oregon is one of the most respected names in chainsaw equipment so we're thrilled to provide these accessories to our customers."
According to Cosgrove, most retailers are loyal to whatever chain saw accessories are on the shelves.
However, ChainSawsDirect.com is not your ordinary retailer. The online superstore exclusively carries chain saws, pole saws, chain saw accessories and safety equipment. Chain Saws Direct offers consumers more than 50 models of electric and gas-powered chain saws and pole saws.
In addition to carrying Oregon chain saw accessories, ChainSawsDirect.com also carries a complete line of Husqvarna, Earthquake, Remington and Tanaka chain saws, as well as a wide selection of chain saw safety gear.
Power Equipment Direct operates nine niche online superstores. In addition to ChainSawsDirect.com, the Bolingbrook, IL-based company operates AirCompressorsDirect.com, ElectricGeneratorsDirect.com, PressureWashersDirect.com, SnowBlowersDirect.com, MowersDirect.com, WaterPumpsDirect.com, SumpPumpsDirect.com and LogSplittersDirect.com.
###