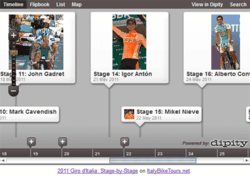 Austin, TX (PRWEB) June 16, 2011
Twenty-one stages, four jerseys, two deaths and one winner; a new timeline covers all these aspects and more from the 2011 Giro d'Italia.
The timeline – which can be found at http://www.italybiketours.net/bike-italy/2011-giro-ditalia.html -includes snapshots of each stage, with a synopsis of the day's events and bios of stage winners. Information was gathered from BBC and ESPN, and then compiled into a timeline for easy reading.
A map of the route is also included.
The 2011 Giro d'Italia celebrated Italy's 150th anniversary of unification. It began on May 7th in Turin, and covered over 3,496 kilometers (2,172 miles) across 17 of Italy's 20 regions.
Arthur Simmons – who covers cycling tours in Italy - believes was the toughest tour in Italy's history. "The climbs were unbelievable. This year's route covered 40 major climbs; in comparison, the Tour de France only had 23."
Tragedies and Controversies of the 2011 Giro d'Italia
Two cyclists passed away during this year's tour. During a strong descent of the Passo del Bocco, Leopard Trek cyclist Wouter Weylandt crashed, sustaining internal injuries and a fractured skull. According to medics, he died instantly. The fourth stage ran as a procession in honor of Weylandt.
On May 23, cyclist Xavier Tondo died in a car accident. According to police sources, he was trapped between a car and garage door. Though Tondo was not a participant, his death affected teammates, who paid tribute throughout the remainder of the race.
Perhaps the largest controversy was former top directeur sportif Cyrille Guimard's insinuation that 2011 Giro winner, Alberto Contador, used illegal modifications to his bike (called "mechanical doping"). While no proof has been brought forth, Contador's past may have caught up with him. He has won six Grand Tours, though two remain unverified due to testing positive for Clenbuterol last year. The hearing is scheduled for August.
The timeline is freely available for distribution and can be found at http://www.italybiketours.net/bike-italy/2011-giro-ditalia.html.
###