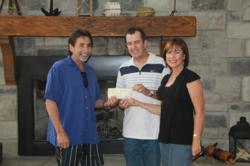 We believe increasing Autism awareness dispels misconceptions of autism. When we heard about the devastation in Joplin we were compelled to help.
Branson, MO (PRWEB) June 17, 2011
Saturday June 11, 2001 was a busy day for Summer Winds Resorts. The founder and CEO of Summer Winds Resorts Services, LLC., Joseph Pat Joyce generously donated $10,000 through The Pat Joyce Charity Fund and sponsored The Day for Shay event held that morning. These donations for Autism go directly to the local community and for the Genoa, Nevada community, where Summer Winds Resorts newest resort is located.
Summer Winds Resorts has donated over $100,000 in the past year for Autism Awareness. Increasing awareness helps the autism movement in a number of ways. It helps the general public gain a better understanding of autism. It dispels common misconceptions and gives the community, families, and friends, of people with autism a chance to participate in activities and show their support for their loved ones. As a company, Summer Winds Resorts has made this a personal goal and endeavor.
Later that evening Founder and CEO, Pat Joyce made yet another generous donation of $20,000 to Branson Cares, which will be used to benefit the Joplin area that was recently devastated by a tornado.
Earlier this month Mr. Pat Joyce and the employees of Summer Winds Resorts donated pallets of much needed baby diapers, formula and bottled water. "When everyone heard about the devastation to our neighbors in Joplin, Missouri, we wanted to help" said Mr. Joyce. Being a father himself Mr. Joyce drew from the inspiration of his two young sons, Maddox and Peyton.
These donations would not have been possible without the help of Jim and Kathy Cox, along with their son and daughter-in-law Brandon and Donna Cox. The donation was facilitated by Candlestick Inn, and Wal-Mart who without their urgency, we would not have turned this project around so quickly to get these much needed supplies to Joplin.
Summerwinds Resorts Services, LLC operates and sells boutique themed resorts in Branson, Missouri and Genoa/Lake Tahoe, Nevada. Summerwinds Resorts has created the successful Stormy Point village at Table Rock Lake and is now reviving the historical charm and personality in 1862 David Walley's Hot Springs Resort and Spa. Stormy Point Village is a Cape Cod; New England styled property with upscale services and amenities. 1862 David Walley's Hot Springs Resort and Spa harkens back to the Pony Express days, as a rustic mining town with charming cabins and a historical themed clubhouse, nestled between native wetlands famous for its Bald Eagle sightings and the foothills of the Sierra Mountain Range. Summer Winds team consists of over 400 employees working in five states with a common goal: service to the customer.
###