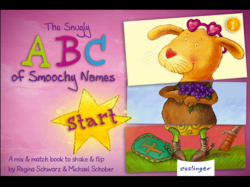 Compliments for the advanced!
(PRWEB) June 16, 2011
iStoryTime, the largest library of mobile children's book applications, today launched the Zany ABC Flip Flap – Children's Book and Snugly ABC Flip Flap – Children's Book apps from the well known Esslinger publishing house that put an entertaining twist on helping children learn their ABCs and expand their vocabulary. Available for iPhone and iPad, the educational apps make learning fun with such mix and match possibilities as "Knobbly Wobbly Worm" and "Kissable Hyperactive Tiger."
With more than 17,000 combinations, the apps bring the silliest, wackiest and funniest word combos imaginable for hours of fun while also being an educational tool. Parents and their children can easily combine any three combinations of letters and illustrations to invent a wonderfully illustrated and vibrantly colored creature and mishmash of off-the-wall sayings.
iStoryTime published these apps to offer parents a new and interesting way to help educate their children while providing them play time that can be shared with friends. The apps are also designed with an innovative features that allows users to shake their iPad or iPhone to mix up the zany word combinations and randomly generate even more unexpected wacky results.
App Overviews

Zany ABC Flip Flap – Children's Book (PRICE NEEDED): Trying to find the perfect combination of words to explain or describe a situation? This app is the silliest wacky-word generator you'll find in the App Store. Funny combinations such as the "Googly-eyed Mealy-mouthed Bear" and the "Bashful Two-toed Frog" are colorfully presented. All combinations are then read by a charming voice over – guaranteeing that the wacky antics produce an even more humorous reaction.
Snugly ABC Flip Flap – Children's Book (PRICE NEEDED): Pay a compliment to your loved ones in all situations with the funniest compliment generator you'll find in the App Store. Comic combinations such as the "Blushing Knick-knack Yak" and "Enchanting Flute-playing Vagabond" are included for a funny twist. A fun narration reads each user created combination to keep the laughs going.
iStoryTime brings the joy of a kids' book to the convenience of the iPhone, iPad and iPod® touch. iStoryTime books are illustrated and narrated, so children can enjoy the book even when parents are busy. Best of all, the apps are simple to use because they are designed for kids two-years and up. Pages can be turned automatically or manually depending on the age and preference of the user. And readers can choose the style of narration — an adult voice, child voice or none at all.
iStoryTime is the perfect way for parents to entertain their children while waiting to go to dinner at a restaurant, on a long airplane or train trip or even when they need a few more minutes to finish grocery shopping. And of course, it's a great way to enjoy a story before bedtime. iStoryTime provides great books to entertain and educated the kids on the go.
About iStoryTime
iStoryTime - an interactive storytelling experience delivered to the convenience of your mobile device - features a series of illustrated and narrated books created by parents for kids. iStoryTime books have been highlighted in the New York Times, LA Times, CBS Early Show, theiPhoneMom.com, CNET and is decorated with PTPA Media's Parent Tested Parent Approved Seal of Approval and the Children's Technology Review's Editor's Choice Award. With over 100 titles to choose from including favorites such as Kung Fu Panda, Shrek, How to Train Your Dragon, Peter Pan and Binky the Pink Elephant, iStoryTime books are an excellent tool for both educating and entertaining children ages two years and up. Our storybooks can be enjoyed in several different modes ranging from automatic to manual, depending upon the development and preferences of the user. For additional information, visit http://www.istorytime.com.
###