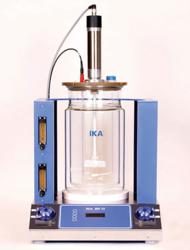 Vernon Hills, IL (PRWEB) June 15, 2011
Created in collaboration with marine scientists, the IKA® BR 10 Bioreactor is a progressive step forward, with an interface that controls all of the photosynthetic variables of lighting, motion, pH value, and temperature. The unit takes up less than half the space―and is priced at about half the price―of a traditional bioreactor. Yet, with advanced features and a sleek design, it ensures optimal cell growth of phototrophic organisms such as algae, moss plants, and even many species of bacteria.
Used for applications including fermentation, medical research, biodiesel, nutraceuticals, pharmaceuticals, cosmetics, food, and more, this 10-liter model is versatile in the lab. The interior of the fully jacketed vessel is chemically inert with no exposure to metals. It is specifically designed for temperature-sensitive samples. The vessel is surrounded by a lamp shield with six removable and compact, double-fluorescent lamps enabling the photosynthetic process to take place. The digitally controlled PTFE overhead stirrer with two 4-blade adjustable propellers gently agitates contents to assist in oxygen transfer (yet preserves fragile cells). The variable-speed peristaltic pump provides a 120 to 450 mL/min flow rate. As a 10-liter system, the lighting can be disabled and the unit can be used as a lab reactor.
For more information about the IKA BR 10 Bioreactor, including product specifications, call 800-323-4340 or visit ColeParmer.com/8581.
Cole-Parmer has been a leading global source of laboratory and industrial fluid handling products, instrumentation, equipment, and supplies since 1955. Our product lines, including popular brand names such as Masterflex®, Oakton®, and more, are sold through company-owned customer channel outlets and a strong network of international dealers. We also feature an ISO-17025-accredited metrology lab for instrument calibration and repair. Cole-Parmer responds with excellence to customer needs, and offers application expertise and technical support. For more information, contact Cole-Parmer, 625 East Bunker Court, Vernon Hills, IL 60061. In the U.S., call 800-323-4340. International customers, call 847-549-7600. Visit us at http://www.coleparmer.com.
###