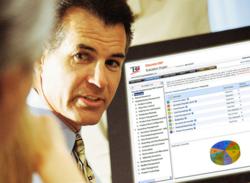 Buyers know what they're getting, and vendors have earned the buyer's trust by submitting their solutions to an independent functionality audit.
Montreal, Canada (PRWEB) June 17, 2011
Technology Evaluation Centers (TEC) today announced that a record 220-plus enterprise software solutions have earned TEC Certification. Software solutions bearing the TEC Certified seal undergo a rigorous verification process by TEC research analysts—providing independent confirmation that the solutions live up to functionality claims made by the vendor.
With a high failure rate of software implementations (TEC reports that up to 70 percent fail to meet objectives), vendors are responding to the demands of their prospects and clients for more clarity and certainty in their software selection processes.
TEC's software certification program provides software vendors with an opportunity to instill buyer confidence in their solutions. "It's a win–win situation for both buyers and vendors," says Rob Bombardier, Vice President (Vendor Services) at TEC. "Buyers know what they're getting, and vendors have earned the buyer's trust by submitting their solutions to an independent functionality audit."
When buyers are dealing with complex products like enterprise software, TEC's Certification program provides a valuable—and free—service to the software buying community. Buyers can learn about individual solutions by downloading TEC Certification Reports at TEC's Web site. Buyers can also perform free detailed comparisons of TEC Certified solutions in every major software category (ERP, CRM, SCM, accounting, PLM, BI, business performance management, HR, and more).
TEC's certification process is the most detailed in the industry, rating software solutions by as many as 4,000 different functional criteria. TEC Certified solutions include products from top-tier vendors like SAP, Oracle, and Microsoft, as well as hundreds of midsized and best-of-breed vendors.
For more information:
Technology Evaluation Centers Inc.
740 St. Maurice, Montreal, Quebec
Canada H3C 1L5
Toll-free: 1-800-496-1303, ext. 367
asktheexperts(at)technologyevaluation(dot)com
http://www.technologyevaluation.com
About TEC
Technology Evaluation Centers (TEC) helps private- and public-sector organizations choose the best enterprise software solutions for their unique business needs—quickly, impartially, and cost-effectively. TEC's online Evaluation Centers, containing IT research and extensive knowledge bases that catalog vendors' support for thousands of enterprise software features and functions, are the leading resource for IT decision makers around the world. By combining that information with a proven methodology, unique Web-based software selection platforms, and years of software selection expertise, TEC delivers an unmatched range of online software evaluation and selection services that bridge the gap between enterprise decision makers and the vendor/value-added reseller (VAR) community.
###