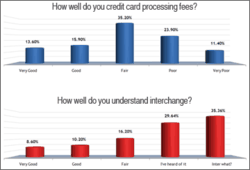 The survey indicates that this oversimplification of fees is causing a large percentage of merchants to accept a version of the truth as fact, and it's an expensive oversight.
Cromwell, CN (PRWEB) June 21, 2011
CardFellow.com recently released a survey that reveals a disturbing trend among business owners: Many merchants claim to understand credit card processing fees, but their knowledge is limited.
The in-house survey polled 100 people to determine their level of understanding about credit card processing fees. Of those queried, 65 percent claimed to have a fair to very good understanding of credit processing fees, while only 35 percent said they knew what interchange is. Interchange is the basis for credit card processing charges, and it is a major expense for merchants.
"This is something that we see often," said CardFellow's CEO, Ben Dwyer. "Someone will think they have a solid grasp on their fees until we show them how things actually work and what they're really paying. It's an unfortunate business climate that we're doing our best to change at CardFellow."
According to Dwyer, it is essential that merchants understand interchange in order to fully comprehend their business's processing charges and the different types of pricing available.
The most common type of credit card processing pricing is what is known as "tiered" or "bundled" pricing. With bundled pricing, underlying interchange categories are grouped into pricing tiers—often called qualified, mid-qualified and non-qualified—that are determined by the processor. Merchants never see the actual cost of a transaction; they pay their processor's general rates. Most credit card processors employ this model because it's more profitable than other methods, and it simplifies complex interchange fees. Dwyer said, "The survey indicates that this oversimplification of fees is causing a large percentage of merchants to accept a version of the truth as fact, and it's an expensive oversight."
Dwyer advocates using the interchange plus pricing method. He says transparent forms of pricing such as interchange plus—the only pricing model that credit card processors are allowed to quote at CardFellow—passes the actual cost of processing directly to merchants, resulting in lower costs and a total-picture representation of fees. However, Dwyer adds that many processors are reluctant to offer interchange plus because it produces smaller profit margins, but he is hoping CardFellow's survey will help change this situation. "This survey should serve as a wake-up call to those business people that feel content in their knowledge of credit card processing fees, and it should prompt them to investigate if what they understand is accurate," Dwyer said.
CardFellow is a free Website that saves businesses an average of 45 percent on credit card processing fees by allowing credit card processors to bid for their business. Cancellation fees and other poor sales tactics are banned at CardFellow, and businesses can receive personalized support to help them select the best option for their needs. Services are provided anonymously, which means participating businesses never have to worry about receiving unwanted sales call and emails. Businesses are under no obligation to select a processor through CardFellow, but those that do can save a significant amount of time and money.
Dwyer points out that CardFellow's credit card processors are ethical businesses that are carefully screened before they are allowed to offer quotes. The agreement they are required to sign reassures merchants that the site's processing partners operate with the highest standards—which is important, given some of the unscrupulous practices that have been plaguing the industry. For more information about CardFellow's new survey or credit card merchant account solutions, please visit http://www.CardFellow.com.
About CardFellow, LLC
Established in 2006, CardFellow LLC provides instant quotes to help business owners locate the right credit card processor. Unlike the typical lead-generation service, the free Website does more than just distribute leads. It provides a user-friendly, online service that simplifies the selection process for merchants. In addition, merchants can receive personalized, on-going support for as long as they are working with any of the site's credit card processors. Located in Cromwell, Conn., CardFellow provides services to registered users throughout the United States.
# # #