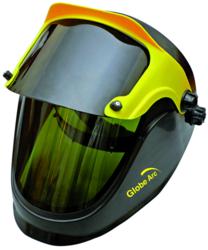 Florence, SC (PRWEB) June 27, 2011
ESAB Welding & Cutting Products introduces the Globe-Arc helmet, designed to provide ideal head and face protection for all kinds of metalworking, including grinding, gas cutting, gas welding and plasma cutting. Part of ESAB's new Weld Warrior™ line of protection, the Globe-Arc helmet features a unique flip-front design with inner and outer lenses that provide effective protection from UV and IR radiation when the visor is both open and closed. The inner lenses are available in three different shades: DIN 2, DIN 3, and DIN 5. The helmet is also equipped with ESAB's comfort head gear.
ESAB Welding & Cutting Products is one of the world's largest and most knowledgeable manufacturers of welding and cutting equipment and welding filler metals. Recognized as the technological leader in the industry, ESAB is committed to providing customized solutions for its customers. For more information, visit http://www.esabna.com or call 1-800-ESAB-123.
###