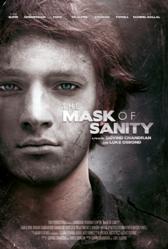 The self-produced title has been funded through the innovative method of 'crowd funding'
Oxford (PRWEB UK) 17 June 2011
"The Mask of Sanity" marks the feature directorial debut for Govind Chandran and Luke Osbond, starring Sam Elwin, Jordan Greenhough, Samantha Kate Ford and Mitch Powell. The self-produced title has been funded through the innovative method of 'crowd funding', with many independent donations from those who see potential in the young group and wish to support them in achieving success.
Written by Patrick Watremez and Luke Osbond, "The Mask of Sanity" is a modern re-imagining of character archetype of someone who walks the fine line between being a genius and a psychopath, and the consequences and weight of such a life. It follows the story of a young student who attempts to craft the perfect life/lie for himself, with the aim of gaining the acceptance of his peers but highlights the real sorrow that would drive such actions.
The film is being made with equipment support from Oxford Brookes University, and provides students from the university a chance to experience working on a feature length film and learning from alumni and industry professionals. "This is a fantastic opportunity for us" notes co-director Luke Osbond, "The support we have had from the community has been outstanding."
Funds were raised via crowd-funding website IndieGoGo.com, and the film is in its final stages of fund raising now. Those interested in contributing to the project can do so at:
http://www.indiegogo.com/The-Mask-of-Sanity
The film can also be followed on social networking sites:
Facebook: http://www.facebook.com/pages/The-Mask-of-Sanity/114991438584519
Twitter: TheMaskofSanity or follow the films director http://twitter.com/#!/govindchandran
About The Crew:
The crew (consisting primarily of Oxford Brookes University alumni working in collaboration with current students) are highly skilled and have achieved success in their independent endeavours, from official selection at film festivals around the world, to being awarded Editors Choice twice at the BFI London Film Festival competition with Microsoft.
Many of the crew members have also gained experience working with other groups, including working with award winning filmmakers, and also international experience working on videos across the world including in Africa, and Malaysia. This film represents a chance for both the cast and crew to build up a reputation for themselves and showcase their talent to the world.
###