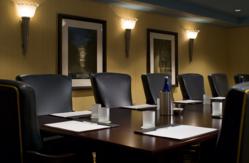 "Research shows you're not as creative and awake unless you're energized. How can we energize people?" - Mike Barrett, Director of Sales
Providence, RI (PRWEB) June 20, 2011
The Renaissance hotel in downtown Providence, Rhode Island, is enhancing the everyday business meeting with the inclusion of "tablescaping." Now in any of the nine meeting rooms, planners can add toys, games and candy to the meeting table to stimulate their attendees and keep them active and creative.
"Research shows you're not as creative and awake unless you're energized. How can we energize people?" said Mike Barrett, director of sales for the hotel. "With games and gadgets of course."
The gadgets of choice at this Renaissance Providence Downtown hotel include tic-tac-toe boards, giant fake diamonds, circular brushed silver bands perfect to use as a wrist band and other objects designed to excite attendees. Providence, Rhode Island is also home to Hasbro, makers of Mr. and Mrs. Potato Heads which the hotel plans to incorporate.
The Renaissance Providence Downtown hotel is nearby to the Providence Convention Center and has over 10,000 sq. ft. of meeting space for any occasion. Tablescaping is free and available upon request and the hotel offers a variety of options to keep guests entertained. To learn more about meetings at the Renaissance Providence Downtown Hotel and tablescaping options, contact Anthony Flynn anthony.flynn(at)renaissanceprovidence(dot)com or call 401-919-5014.
To learn more about the Renaissance Providence Downtown Hotel visit: http://www.renaissanceprovidence.com.
About Renaissance Providence Downtown Hotel:
Renaissance Providence Downtown Hotel, in Rhode Island, is an upscale, full-service hotel featuring 272 guest rooms, 10,000 square feet of state-of-the-art meeting and event space, a trendy Mediterranean-inspired restaurant, Temple. This historic building was once an incomplete Masonic Temple is now a luxurious hotel. For more information, visit http://www.renaissanceprovidence.com or find us on Facebook http://www.facebook.com/RenaissanceProvidence and Twitter http://www.twitter.com/RenaissanceRI.
About Sage Hospitality:
Founded in 1984, Sage Hospitality has strategically grown into one of the largest privately held hotel management and development companies in the nation operating a variety of large, full-service hotels and extended stay and select-service properties. Sage Hospitality's comprehensive management portfolio includes major international brands for Marriott, Starwood, Hilton and IHG as well as the independent boutique hotels. Sage Hospitality has further differentiated with the creation of the Sage Restaurant Group, which has created and is managing 10 unique restaurant concepts including the acclaimed Mercat a la Planxa restaurant in Chicago. For more information, please visit http://www.sagehospitality.com.
###