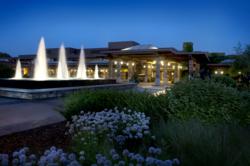 Lake Geneva, WI (PRWEB) June 16, 2011
Every year, hundreds of people gather at the AAA Four Diamond Grand Geneva Resort & Spa for a sparkling Independence Day celebration featuring food, fun, and fireworks. This year, Grand Geneva is excited to expand the annual affair into a four-day fete that supports the Lake Geneva Area Food Pantry by asking each attendee to donate two non-perishable food items upon entering the resort grounds that will be used to assist local community members in need. The resort welcomes residents of surrounding areas to join the merriment while relaxing in the resort's breathtaking setting.
Entertainment will begin on Friday, July 1, and will continue throughout the weekend, featuring festivities such as live music performances, a Champagne brunch and other epicurean events, magic shows, interactive DJs, a water skiing show, a 5K walk/run, and a concert by the nationally acclaimed band Cowboy Mouth. Children visiting the Grand Geneva and Timber Ridge Lodge can also look forward to exciting activities such as face painting, arts and crafts, a bounce house with a slide, karaoke, raffle prizes, and special appearances by Bruce the Moose.
Whether residents are looking to experience fun music performances, an extended weekend vacation with family, or just want to support a local charity, the weekend will offer something to suit every need. Visitors hoping to participate in the weekend's activities available only to hotel guests are encouraged to reserve accommodations at the Timber Ridge Lodge or the Grand Geneva Resort & Spa.
Event Schedule Highlights
The four-day celebration kicks-off with a live performance on the pool deck by The Heat on Friday, July 1, at 1p.m. Highlights for the day include an 8 p.m. outdoor concert by acclaimed band Cowboy Mouth at the Ski Chalet. The concert is complementary to hotel guests only, but the event is open to the public for $25 per ticket and parking. Due to limited lawn seating for the concert, advance ticket purchases are recommended. Following the concert will be an interactive DJ at Timbers Bar & Grill and the Evolve Bar at Grand Geneva, as well as live entertainment in the Lobby Lounge. For tickets, please call 262.249.4741.
Beer lovers will be excited to learn that on Saturday, July 2, the resort will host a Leinenekugel's and Blue Moon Tasting/Food Pairing at the Pool Bar at 3 p.m. Soon after, David Seebach's Wonders of Magic Show will be presented in the Forum Theater at 7:30 p.m., along with a dinner barbecue buffet that includes smoked beef brisket, roasted mesquite chicken, slow-cooked pork ribs and so much more. While fees apply to the beer-focused event and dinner barbeque buffet, the magic show is complementary and open to hotel guests only. Reservations for dinner are recommended due to a limited capacity. For dinner and a show reservations, please call 262.249.4788
On Sunday, July 3, the day begins with the annual Firecracker 5K Fun Run/Walk, continues with a Grand Picnic, several family friendly activities including caricature drawing, balloon artistry, hula hoop contests, special appearances by Bruce the Moose and an incredible water ski show from the Brown's Lake Aquaducks. To end the day, Grand Geneva will light up the night sky during the Grand Fireworks Show at dusk. The spectacular Grand fireworks display is free and will feature new special effects and double the number of fireworks in the Grand Finale. All events on July 3 are open to the public. All attendees of the fireworks show are encouraged to donate two non-perishable food items upon entering the resort grounds to help local community members in need. Registrations for the 5K Fun Run/Walk are being accepted at 262. 249.4750.
To culminate the Independence Day weekend-long extravaganza, on Monday, July 4, hotel guests are invited to congregate for a breakfast buffet at the Grand Café between 6:30 a.m. and 12 p.m. Guests are also welcome to enjoy live entertainment at the pool deck from 1 to 5 p.m. and in the Lobby Lounge from 5 to 10 p.m. or the interactive DJ in the resort's Evolve Bar between 9 p.m. and 1 a.m.
More information on the weekend-long Fourth of July celebration at Grand Geneva can be found at http://www.grandgeneva.com/specials/fourth-of-july.asp. To reserve accommodations at Grand Geneva or Timber Ridge Lodge for Fourth of July weekend, please visit http://www.GrandGeneva.com or http://www.TimberRidgeResort.com.
About Grand Geneva Resort & Spa
Grand Geneva Resort & Spa is an award-winning all-seasons luxury hotel resort and convention center set on 1,300 acres in the legendary southeastern Wisconsin community of Lake Geneva, just 90 minutes from Chicago and 50 minutes from Milwaukee. The property features 355 guest rooms; WELL Spa + Salon; two championship 18-hole golf courses; The Mountain Top, a three-chair/18-run ski and snowboard facility; 62,000 square feet of meeting and convention space; three restaurants; and a 4,100-square-foot executive airport.
Grand Geneva recently completed property-wide renovations, which included improvements to all guest accommodations, the outdoor pool deck and WELL Spa + Salon, and the addition of Embers Terrace, an outdoor fireplace experience.
Additional accommodations on property include the family-friendly Timber Ridge Lodge, featuring the 50,000-square-foot Moose Mountain Falls indoor/outdoor waterpark, 3,600-square-foot arcade, 3,500-square foot ballroom, and family barbecue restaurant. Grand Geneva is a wholly owned subsidiary of the Marcus Corporation. For more information or reservations, call toll free (800) 558-3417 or visit http://www.GrandGeneva.com.
# # #