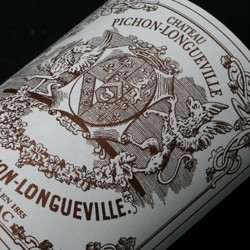 This is a blended wine of Merlot and Cabernet, but the wines' personality is marked by our great Cabernets.
New York City, NY (PRWEB) June 16, 2011
Prominent Bordeaux classified growth, Chateau Pichon Longueville Baron (commonly called Chateau Pichon-Baron), announced the prices of its 2010 wines today. The Pauillac "Super Second" Growth property has received top scores from Robert Parker (97-99), Decanter Magazine (18.5), and Wine Spectator (95-98).
"The Chateau Pichon Longueville Baron assemblage of 79% Cabernet Sauvignon and 21% Merlot boasts solid maturity along with freshness and an imposing, powerful presence in the mouth," said Roger Bohmrich, Master of Wine and General Manager of New York wine store, Millesima USA LLC. "This is a highly impressive Pichon Baron which has great nobility and potential." Mr. Bohmrich tasted the 2010 Bordeaux Futures in early April 2011 during En Primeur week.
Once part of a larger estate incorporating Chateau Pichon Longueville Comtesse de Lalande, Pichon-Baron is currently owned by French insurance company AXA Millésimes, who also own Chateau Petit-Village and Chateau Suduiraut.
"This is a blended wine of Merlot and Cabernet, but the wines' personality is marked by our great Cabernets," says Managing Director, Christian Seely. "Like with any great wine, Pichon wine reflects the area from which it comes – its origins. In this terroir, the noble Cabernet grapes express themselves sublimely, especially in great years."
Interested wine consumers can purchase the 2010 Pichon-Baron wines through the Millesima USA website: http://www.millesima-usa.com/catalogue/producer-chateau-pichon-baron.html
Other notable 2010 Bordeaux Grand Cru Classe wines released today include: Chateau Montrose (Saint-Estephe), Chateau Lynch-Bages (Pauillac) and Chateau Pape Clement (Pessac Leognan).
For complete coverage of the 2010 Bordeaux Futures campaign, visit the Millesima USA website to view video tasting reports and wine recommendations at http://www.millesima-usa.com/media-events/wine-videos.html.
About Millesima USA
New York wine shop, Millesima USA, specializes in classified growth Bordeaux wines and French wine Futures. We source and select our Bordeaux wines from the estates. We guarantee the highest quality standards for wine storage, shipment, and customer service so buy with confidence.
Millesima USA LLC is located in Manhattan's Upper East Side at 1355 2nd Ave, New York, NY 10021.
# # #