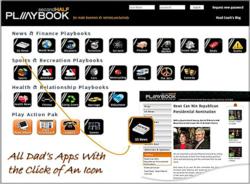 Sarasota, FL (PRWEB) June 16, 2011
Today, the Second Half Playbook, LLC announced a Father's Day Gift contribution to overseas military personnel of 1,000 http://www.secondhalfPLAYBOOK.com memberships. Each is valued at $29.95 and is available free on a first come basis. Site membership enables access, with no typing and no tech complexity, to content from over 400 internet sites. In addition an Automated Photo Album automatically captures, stores and displays email photo attachments eliminating the need to monitor emails or access shared photo sites.
According to John Montelione, Second Half Playbook, CEO, "The secondhalfPLAYBOOK is designed to overcome internet usage obstacles and deliver quickly content in a uniform format. Our target market is male boomers and retirees. In discussion with military personnel, we realized their similar need for a site delivering with no obstacles the content soldiers want, when they want it."
For rapid distribution of memberships prior to Father's Day, an honor-based distribution system has been established. Overseas military personnel or their family members can access http://www.secondhalfplaybook.com/join-now and select the Redeem a Coach's Corner Gift Certificate option. When the form appears, the coupon code MIL1000 must be entered and the $29.95 fee will be waived. Detail instructions can be access at http://www.secondhalfplaybook.com/mil1000 and a site video at http://www.2hbp.com/video.
Within the secondhalfPLAYBOOK site, users access information by selecting one of 28 topic multi-media centers called Playbooks. Rather than searching for content via a browser, the user simply selects the appropriate Playbook.
Company Description
The Second Half Playbook, LLC ("Company") is targeting population groups that are not regular internet users. (See: For Those Facebook Left Behind, David Pogue, New York Times http://www.nytimes.com/2010/07/08/technology/personaltech/08pogue.html)
The Company's goal is to offer membership-based web sites designed to encourage usage and deliver transparently the content and tools to improve a user's lifestyles, family connections and pursuit of interests.
The secondhalfPLAYBOOK.com is built on a state-of-the-art content management system called Drupal (drupal.org). It maintains over 500,000 information nodes and manages updates every 10 minutes. The site utilizes a "dedicated" architecture to deliver content in lieu of the user browsing for content. (See: Web Is Dead. Long Live the Internet, Chris Anderson & Michael Wolff, Wired, http://www.wired.com/magazine/2010/08/ff_webrip/all/1).
The Second Half Playbook, LLC was founded by John Montelione. His prior startups are Mercury Computer Systems; Paragon Imaging, acquired by Ceridian and now a division of Textron; and Guardian Solutions, acquired by the Telephonics division of Griffon Industries.
The Company is located in Sarasota, Florida and is a PayPal and Authorized.NET verified merchant.
# # #