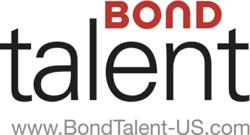 The latest version of Bond Talent can transform the human capital supply chain between an organization and its staffing suppliers. It improves business performance by streamlining the process of finding top talent.
Bloomington, MN (PRWEB) June 16, 2011
Bond International Software will be showcasing the latest version of Bond Talent – the web-based talent acquisition and applicant tracking software application – at the 2011 Society for Human Resource Management (SHRM) Annual Conference and Exposition in Las Vegas. Bond International Software will be offering exclusive demonstrations of the new functionality and features within this newest version of Bond Talent at Booth 717 at the conference, which takes place June 26-29, 2011.
Bond Talent is a powerful and versatile web-based talent acquisition software application, which has been developed for corporations of all sizes who wish to streamline their in-house recruitment processes and save costs. The applicant tracking software manages both internal and external candidates through multi-level requisition management, while enabling firms to optimize the recruitment of full-time, part-time and contingent workers. Bond Talent is suitable for companies of 200 employees upwards, with its multilingual capabilities also making the software ideal for global corporations. The latest version of Bond Talent is a highly configurable solution that can accommodate a firm's existing and future recruitment workflows.
The latest version of Bond's talent acquisition software has been developed following recent detailed customer consultation answering the call for faster, improved implementation. Its simple 'plug and play' design has reduced the need for costly in-house training requirements. Quicker and more efficient than previous versions, the new offering from Bond Talent helps to systemize talent acquisition by integrating each phase in the hiring process: from acquisition, assessment, interviewing and screening, right through to the final decision. The wide-ranging flexibility of the talent administration system also means templates, forms and profiles can be configured internally to meet each client's precise specifications. Bond Talent offers a truly scalable solution that can be adapted as and when business growth demands such development.
The latest version of Bond Talent also brings users improved reporting and analysis capabilities. The advanced recruiting metric dashboard and comprehensive reporting functions within Bond Talent enable corporate recruiters to have complete visibility of all recruitment activities. This greater level of real-time and granular visibility helps organizations to reach better business decisions, also contributing to time savings and reduced administrative costs. Delivered as a Software-as-a-Service solution (SaaS), Bond Talent enables recruiters to utilize the software, resources and information, whenever and wherever, with accessibility available on demand via a web browser.
Tim Giehll, CEO of Bond Talent US, comments, "The latest version of Bond Talent can transform the human capital supply chain between an organization and its staffing suppliers. It improves business performance by streamlining the process of finding top talent and aligning this critical function with your corporate goals. Managers can make informed real-time decisions with comprehensive reporting and dashboards, while saving time and reducing recruiting costs."
Key features of the latest version of Bond Talent include:

Plug and play intuitive technology
Global applicant tracking solutions
VMS agency portals
Multi-lingual capabilities (with Asian character sets)
Self administrative capabilities
24/7 global support teams
SaaS cloud computing models
Flexible and dynamic service options
Compatibility with payroll and HR applications
Job board exports
Interview & assessment scheduling
Outlook integration
Customizable reports
Automatic candidate notifications
Document management
User friendly administrative tools
Steve Russell, CEO of Bond International Software, concludes, "For almost 40 years, Bond International Software has pioneered breakthrough developments in human capital management software and services. Bond Talent is a figurehead product for Bond International Software and as such we are very proud of the place it holds in our product portfolio. With over two years in development, we are confident that the latest version of Bond Talent will fare far better than its competition in the marketplace. We are therefore delighted to be unveiling Bond Talent's most recent offering at the SHRM Annual Conference 2011, and welcome visitors to our booth for a demonstration."
About Bond International Software
London stock market-listed Bond International Software plc is a global provider of recruitment and human capital management (HCM) software and services.
Bond is the largest, and most established, global specialist in staffing software for recruitment agencies and executive search firms worldwide and is a rapidly growing provider of web-based e-recruitment and talent acquisition software to the corporate market. Bond also provides established HR and payroll software and outsourcing services directly to both the public and private sectors.
Established in 1973 and listed on the London Stock Exchange since 1997, the company has consistently achieved financial growth and maximized investment in the development of technology and service provided to its international client base.
Bond has over 37 years' experience in the development and creation of products and services that have become industry standards. Headquartered in the United Kingdom, the Group also has offices in the United States, Australia, Canada, South Africa, Japan, Hong Kong and Peru - with a global team of nearly 500 employees, 3700 customers and over 100,000 users.
Bond's customers include some of the largest recruitment agencies in the world, some of the best known corporations and a large number of private and public sector organisations, including: Adecco, Hays, Michael Page, Manpower, Kelly's, Select, HBOS, Habitat, Co-op, Wincanton, Lego World, Ascot Racecourses, EasyJet, Bristol City Council, University of Huddersfield and North-West Fire Services.
###