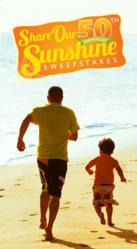 Anaheim, CA (PRWEB) June 15, 2011
Anaheim/OC Visitor & Convention Bureau concluded their 50th Anniversary Facebook sweepstakes and contest entitled "Share Our Sunshine with the announcement of grand prizewinner, Penny Atwood of Provo, UT. The activity of the contest is reflected in the following figures:
Share Our Sunshine Sweepstakes:
Week One Entries: 1013
Week Two Entries: 612
Week Three Entries: 504
Week Four Entries: 698
Week Five Entries: 788
Total Sweepstakes entries: 3,615
Sweepstakes visits: 17,512
Wall views from the same period: 15,721
Grand Prize Photo Contest:
Entries: 391
Votes: 291
Contest Visits: 4,071
New Likes: 12,384
New Likes due to ads: 9,095
*stats provided by Sparkloft Media
The first five weeks of the anniversary sweepstakes included more than 50 destination prize packages with a total value estimated at approximately $70,000 with prizes ranging from baseball suites at Angel Stadium, stays at OC's luxury coastal resorts, dining to family vacation packages including accommodations and admission tickets to a variety of major Southern California attractions.
The grand prize photo caption contest required Facebook entrants to create original and inventive, funny, or inspiring captions for up to eight Orange County photos. Judges from the AOCVCB selected 10 captions to be finalists and Facebook users then voted on the final selections to determine the winner.
All of the winners from Share Our Sunshine are listed on a page as a part of the 50th Anniversary microsite, which is available on the Anaheim/OC website to provide insider vacation tips and reasons to visit Anaheim and Orange County plus destination information.
AOCVCB Facebook followers have more opportunities to share in the OC sunshine with the new Travel Deals page. The Travel Deals page includes exclusive discounts and special offers from area accommodation, attractions, transportation and more. In order to see and take advantage of the deals, Facebook users must become a fan of Anaheim/OC.
###