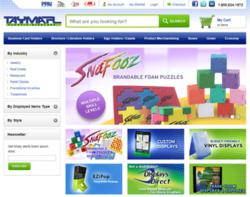 . "Our customers will be able to easily and quickly search for the products and displays they want. We believe this is the first e-commerce site exclusively designed for distributors, who will receive the highest customer service in the industry."
Palm Desert, CA (PRWEB) June 17, 2011
Benchmark Capital Partners, LLC, Palm Desert, California has launched two new online e-commerce websites, DisplaysDirect.net and TaymarPlasticDisplays.com. Benchmark supplies point of purchase displays to business, the general public and distributors. "We have hundreds of stock displays for brochures, literature, signs, retail and restaurant displays and tradeshows," says Michael Reher, director of Marketing.
DisplaysDirect.net offers display products to on-line customers who may be looking to purchase small quantities for their small business. TaymarPlasticDisplays.com offers the same products for wholesale distributors who buy in large lot quantities. Many distributors are members of ASI, SAGE, PPAI and UPIC who receive special pricing.
"We are all very excited and pleased with our new websites," exclaimed JoAnne Frohman, president of Benchmark. "Our customers will be able to easily and quickly search for the products and displays they want. We believe this is the first e-commerce site exclusively designed for distributors, who will receive the highest customer service in the industry."
Point of Purchase displays are the backbone of businesses and retailers. Acrylic displays available to nearly every industry, have been joined by an ever-increasing demand for Green displays. Both e-commerce sites feature brochure holders and ballot boxes produced of eco-friendly food grade chipboard and corrugated products. "Unique to our product line is the brand new EZiPOP® brochure holders and product dispensers. There is nothing like them on the market and we are proud to be an exclusive supplier," stated Dick Frohman, vice president of Marketing and the creator of the Silent Salesman.
Benchmark Capital Partners, LLC is headquartered in Palm Desert, California. Established in 2009, Benchmark is setting the standard for displays as the premier designer of custom acrylic point of purchase and merchandising displays.
Benchmark has established optimal Mexico, Asian and US sourcing providing unmatched savings to clients.
Benchmark acquired Taymar Plastics in late 2009. Taymar was a leader in acrylic displays and custom fabrication of POP, merchandising and retail displays for 26 years. The acquisition has afforded Benchmark many of the resources and personnel that powered Taymar.
Benchmark Partners, LLC divisions include Displays Direct, Taymar Plastic Displays, Idea Group, Space Age Ammericana, Snafooz® Foam Puzzles and Benchmark Displays – Custom Displays.
###