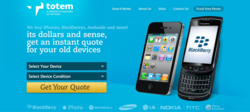 Companies and consumers alike are able sell an old iPhone to Totem for enough to pay for an upgrade to the newest technology
San Diego, CA (PRWEB) June 29, 2011
Totem gives an instant, and surprisingly lucrative, online quote for an unwanted or broken phone. Soon after, a return box with pre-paid postage arrives at the doorstep for the device to be sent back. Place the cell phone in the provided return box and simply drop into any USPS mailbox. Once Totem receives the device, customers are sent a check or PayPal payment typically within 48 hours.
"Consumers don't often realize the retail value of the devices they carry," says Totem CEO Nicholas Fiorentino. "iPhones have up to a $749 retail value, and consumers can almost always sell an old iPhone to Totem to cover the cost of a technology upgrade. Even a dead iPhone 4 sold to Totem nets $153."
So what happens to the device? Fiorentino states, "There's high demand all over the world for yesterday's American technology. We have the resources to resell, refurbish and recycle large quantities of outdated, broken technology, and we act as a bridge for US customers to help meet that demand. Our US customers are jumping all over this opportunity for quick cash. The iPhones are being put to good use, and technology continues to push forward."
HelloTotem.com is ready for consumers to sell their iPhones, Androids and other smart phone models, and has begun to accept business fleet cell phone inventory as well. "Inquiries from large companies are now welcome," explains Fiorentino. "They're now able to upgrade their company's cellular devices faster than ever before, and stay ahead of the technology game."
Totem is a San Diego based company founded in 2009 led by Nicholas C. Fiorentino who believes that both consumers and businesses should have a simple, no-risk service to cash in on the investment they've made in their existing smart-phones so that they can keep up with the latest trends in technology.
###