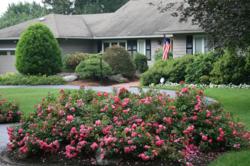 "Let's celebrate your beautiful garden, learn what really works and what is important to you. Let the sharing and the contest begin!"
Anthony Tesselaar
Lawndale, CA (PRWEB) June 17, 2011
Three lucky gardeners will receive a collection of all three colors of Next Generation Flower Carpet groundcover roses – offering supreme heat and humidity tolerance – as part of a "Great Gardens" contest being held on Tesselaar's Your Easy Garden blog this summer.
The contest, to be held from July through September, will ask gardeners to share images and stories from their gardens in three different categories:

Best Plant Combos (July)
Best Story About Your Garden & Why Gardening Is Important To You (August)
Best "Easy Gardening" Tricks & Tips (September)
One category will be featured per month, and the winner of that category will be randomly chosen at the end of that month. Gardeners can enter more than once by answering that month's feature question and engaging in conversation on the blog.
Monthly winners will receive a canvas totebag, The Rose, a stunning a coffee table book including writing contributions from five of the world's most respected rosarians (including Tesselaar Plants cofounder and president Anthony Tesselaar) and the entire collection of Next Generation Flower Carpet roses – Amber, Scarlet and Pink Supreme. The roses will be shipped next spring at the appropriate planting time for the winner's area.
According to Anthony Tesselaar, co-founder and president of Tesselaar Plants, the contest is all about sharing what works in your garden and why you garden. Tesselaar would love to see those winning plant combinations that make your garden a special place
"Our ongoing goal at Tesselaar is to make gardening easy for everyone, so we hope this contest gets everyone talking to each other about what works for them in their own garden," says Anthony Tesselaar. "This is part of our continued outreach to the gardening community through our blog, Facebook, Twitter and other social media to engage in a two-way exchange of information and ideas about a common passion we all have – gardening. We want to celebrate people's beautiful gardens, to know what really works and what's important to them. Let the sharing begin."
The contest begins July 1 and will run through September 30, 2011. Complete contest rules can be seen on Tesselaar's online newsroom and the Your Easy Garden blog.
Flower Carpet roses fact sheet
Flower Carpet Next Generation line fact sheet
High-resolution image of Flower Carpet roses in the landscape
High-resolution image of Next Generation Flower Carpet roses in container
About Tesselaar
Headquartered in Australia, Tesselaar Plants searches the world and introduces new plants for the home garden, landscape, home décor and gift markets. Tesselaar Plants undertakes extensive research and development of its varieties and, once selected for introduction, provides marketing and promotional support for its plant brands through its grower and retail network. Tesselaar's portfolio of plants is small by design, given rigorous standards that result in high-quality, dramatic, prolific plants that are also environmentally friendly and exceptionally easy to grow.
The Tesselaar philosophy is to introduce exceptional plants while "making gardening easy" for everyone, and so it makes them widely available as possible. Tesselaar believes that the more gardeners there are, the better it is for everyone.
Follow Tesselaar on social media:
Blog: http://www.youreasygarden.com
Facebook: Tesselaar International Plants
Twitter: @TesselaarPlants
# # #