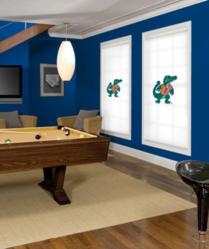 Castle Rock, CO (PRWEB) June 17, 2011
In business since 2001, Shades Shutters Blinds is cheering to announce a major score by rolling out collegiate roller blinds. "We offer officially licensed logos for more than 70 of your favorite colleges. If you're a fan of roller shades, this is the ticket. No matter your allegiance, you'll have it made in the shade. Add "'class' to any room" says customer service. "Does your roomy cheer for someone else? Show your colors. Drive them blind."
"Picking the right shade is simple. You pick your mascot and style, there are other ways to customize your shades. Flip a coin between light filtering or dramatic blackout". Sizes range from 12" to 114" wide and 12" to 120" high. "Don't worry about the neighbors because; all they'll see is "respectable" good-neighbor white blind from the outside". Controls can be on the left or right side, and the blinds can be installed inside or outside the window. Choose a heavy-duty cord loop, no cord, an installed radio remote control. That will drive the competition wild. Or select a standard roller, cassette, or ultra sleek headrail.
Shades Shutters Blinds has been a member of the Denver/Boulder Better Business Bureau since 2006, and has been providing window shades online since 2002. "We support you and your team through every step of the play. Bring your chains to our web site so we can help you take proper measurements, or call us for tech support on or off the field" says Rose-Marie.
###