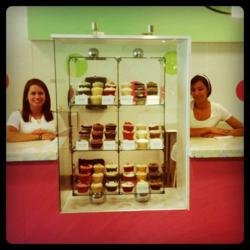 Fans responses speak for themselves. Once you have tried Dimples Cupcakes, you will have tasted the best cupcakes on the planet
(PRWEB) June 16, 2011
As 2011 NBA Champions, Dallas Mavericks celebrate their victory, the Mavericks' former three-time all-star, Mark Aguirre, proudly announces the grand reopening of Dimples Cupcake Factory previously known as Dimples Cupcakes.
"Congratulations to the Dallas Mavericks on winning the 2011 NBA Championship. I'd like to thank you for allowing us to witness how important it is to be a team and for representing the NBA and the Dallas Fort Worth area in a manner we all can be proud of" stated Aguirre in response to the Dallas Mavericks big win this week.
Mark Aguirre, recently acquired the Dimples Cupcake company and has improved upon the already delicious reputation of your favorite Dallas Cupcakes by providing great recipes and an exceptional consumer experience.
Dimples Cupcake Factory provides the DFW area with delectable cupcake flavors that you will not find at competing bakeries. Try the cupcake bakery's unique flavors such as Snickers, Cookies N' Cream, Wedding Cake and more. To find out when your favorite flavors are available, visit Dimples Cupcake Factory cupcake flavors and see all that the new company has to offer. Customers can also order cupcakes online at the company's website.
"Fans responses speak for themselves. Once you have tried Dimples Cupcakes, you will have tasted the best cupcakes on the planet" says Aguirre regarding the new Dimples Cupcake Factory cupcakes.
About Dimples Cupcake Factory:
Dimples Cupcake Factory, owned by former Dallas Mavericks all-star, Mark Aguirre and partner Keith Fluellen, provides Cupcakes in Dallas at the recently reopened location in Frisco with locations in Plano, Uptown and Downtown Dallas coming soon. Come to 8880 Coleman Blvd. Frisco, TX 75034 to find cupcake flavors such as Red Velvet, Banana Pudding, Chocolate Cream Cheese and many more. To find out more about the newly managed Dimples Cupcake Factory visit our Dimples Cupcake Factory Facebook fan page or go to http://www.dimplescupcakefactory.com.
###