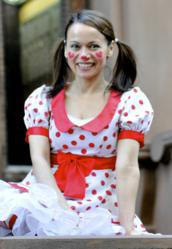 Face painting is so much fun and very fulfilling.....working with kids and seeing their overjoyed responses...it's the best job in the world.
New York, NY (PRWEB) June 20, 2011
Popular NYC face painter and children's entertainer Kiki Scott, owner of the kids' party entertainment company Kiki's Faces and Balloons, was chosen to design and star in 60+ "How to Face Paint" videos for a newly-launched national website. These high-quality, high-definition videos will star Kiki with her signature charm and her talented painters, and feature the company's unique and beautiful face painting work.
The videos produced by FacePaint.com teach aspiring face painters exactly what paint and brushes to use, and take them step-by-step through the process. With over 60 videos produced, it is a very extensive collection of designs - everything from butterfly designs, princesses, cats and dogs, to superheroes, robots, monsters and all the popular Halloween faces, too. These professional face painting designs can be done by anyone at any level - whether beginning or advanced, using Kiki's tried and true "secret techniques" and tricks.
"For me, there is nothing more fun and fulfilling than face painting," says Scott who has been a full-time professional face painter and children's entertainer for over 10 years. "The colors, the creativity, the working with kids and getting to see the overjoyed expressions on their faces when they see the finished design - it's really the best job in the world. I believe that the best face painting designs come from each face painter's own creativity. That's why, when I teach classes, I always tell my students to go with their own creative impulses. Instructions are important, and will give you a basic structure to work with, but, above all else, I encourage people to trust their own creative ideas."
About Kiki's Faces and Balloons:
Kiki's Faces and Balloons is a children's party and event entertainment company based in Manhattan, New York. It was founded in 2006 by Kiki Scott and provides high-quality face painters, balloonists, princesses and clowns for private and corporate events in New York, NY,
Contact:
Kiki's Faces and Balloons NYC
Corporate & Private Party Booking Manager
646-435-4739, kikisfaces@gmail.com
http://www.kikisfacesandballoons.com
The "How-To" videos and face painting supplies:
FacePaint.com
http://www.facepaint.com.
###