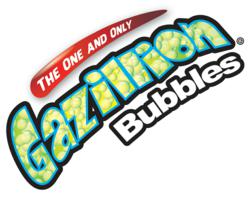 Van Nuys, CA (PRWEB) June 16, 2011
Funrise Toy Corporation is proud to announce that two of the newest Gazillion Bubble items have won Dr. Toy's Best Vacation Children's Product Awards for 2011.
The Gazillion Bubbles Bump-N-Go Bubble Bug is a cute motorized bubble bug that will entertain children as it races along releasing hundreds of colorful bubbles. If this little bug bumps into something, it quickly turns and races in a different direction. Just fill it with the award winning Gazillion Bubble solution, push the button, and watch as the wings pop open to blow bubbles as the bug scurries off.
The Gazillion Bubble Football adds the fun of bubbles to a traditional game of catch. This soft inflatable football is easy to grip and made to go the distance. Simply dip the wands into the Gazillion bubble solution, throw it, and watch as the bubble football leaves a colorful trail of bubbles behind.
Funrise has elevated the world of bubbles with the award winning One and Only, Gazillion® Bubbles, an effervescent line of bubble toys bursting with a one-of-a-kind bubble solution and great bubble blowing accessories. The success behind Gazillion Bubbles is its 'top secret' solution that enables the bubbles to float higher, longer and reflect light around them. The result? Gazillions of colorful bubbles – more bubbles than any other solution on the market. Every bottle of Gazillion Bubbles solution provides hours of enchanting, colorful bubble play! Kids will love blowing Gazillion Bubbles and parents will too since the non-toxic bubble solution won't stain their clothing or the furniture.
About Funrise
Founded in 1987, Funrise is an adventurous innovator of superior toys and an industry leader in the manufacturing and distribution of the most popular children's toys. Simply put…we create fun! Funrise's core property portfolio includes Gazillion® Bubbles, HEADBANGERS™, Home Arcade, Tub Town®, Play 'n Pretty®, Truly Charmed™, Nylint™, Shelcore's Shake 'N Bobbles® and Sound Beginnings® with leading licensed power brands such as Tonka®, National Geographic©, Disney©, Sesame Street© and more, making our product offerings diverse and full of fun for kids of all ages! Funrise Toy Corporation is a wholly-owned subsidiary of Matrix Holdings Limited. Funrise U.S. headquarters are located in Van Nuys, CA, with offices in Hong Kong, United Kingdom, France and Mexico with additional showrooms in Dallas and Bentonville, AR. Funrise is operated by Arnie Rubin, vice chairman of Matrix and CEO of Funrise who also serves as Chairman of the Toy Industry Foundation (T.I.F.) and past Chair of the Toy Industry Association (T.I.A.). Funrise's success results from its commitment to quality manufacturing, progressive marketing and a values-based corporate culture.
###