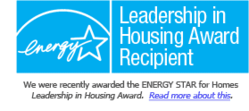 Uniontown, OH (PRWEB) June 16, 2011
Wayne Homes is pleased to announce that it has been recognized by the U.S. Environmental Protection Agency (EPA) with a 2011 ENERGY STAR Leadership in Housing Award. This award recognizes the important contribution Wayne Homes has made to energy-efficient construction and environmental protection by building more than 133 ENERGY STAR qualified homes last year. Collectively, these homes will save our customers approximately $68,391 on utility bills each year.
The environmental benefits of these ENERGY STAR qualified homes are equal to the equivalent of:

Eliminating the emissions from 75 vehicles;
Saving 453,492 lbs of coal;
Planting 124 acres of trees; or
Saving the environment 889,289 pounds of CO2 per year.
To earn the ENERGY STAR, a home must meet strict guidelines for energy efficiency set by the U.S. Environmental Protection Agency. These homes are at least 20% more efficient than standard new homes built today.
"We're very proud to be one of the very first builders in Ohio to partner with the EPA and build ENERGY STAR homes. We've been doing it since 1997. It means a lot to our homeowners and to the environment", says George Murphy, Vice President of Construction for Wayne Homes.
ENERGY STAR qualified homes offer homebuyers all the features they want in a new home, plus energy-saving features like effective insulation systems, high performance windows, tight construction and ducts, properly-sized and installed efficient heating and cooling equipment, efficient products, and third-party verification of energy performance.
"The value you get from an ENERGY STAR Qualified Home goes far beyond energy efficiency," said Sam Rashkin, National Director for EPA's ENERGY STAR Homes Program. "ENERGY STAR Qualified homes provide more comfort, durability, and a healthier environment than homes built to code. On top of that, they're tested and inspected to perform."
Last year alone, with the help of ENERGY STAR and partners, Americans saved about $18 billion on their utility bills and avoided greenhouse gas emissions equivalent to those of 33 million vehicles. Nearly 1.2 million ENERGY STAR homes have been built in the United States since the program first began labeling homes in 1995.
About Wayne Homes
The task of constructing a home from the ground up is made less daunting thanks to Wayne Homes' four decades of experience, streamlined process and exceptional personal service. They help customers through every step — from home-site prep and financing to choosing from numerous combinations of floorplans, features and finishes. The result is a home of extremely high quality that perfectly suits the homeowner's needs. Homes range from 1,300 to 3,500 square feet and from the $80s to $200s (plus land cost). Learn more about building a custom, energy-efficient home by dropping by one of the company's eight model home centers or by visiting WayneHomes.com
About ENERGY STAR
ENERGY STAR was introduced by the U.S. Environmental Protection Agency in 1992 as a voluntary market-based partnership to reduce greenhouse gas emissions through increased energy efficiency. Today, ENERGY STAR offers businesses and consumers energy-efficient solutions to save energy, money and help protect the environment for future generations. More than 126,000 new homes were constructed to meet ENERGY STAR guidelines in 2010, by partners committed to improving the energy efficiency of products, homes, buildings and businesses. For more information about ENERGY STAR, visit http://www.energystar.gov or call toll-free 1-888-STAR-YES (1-888-782-7937).
###