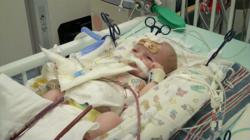 "What we've done here is show that this is feasible... Whether that translates into altering outcomes in the future, only time will tell."
Dr. Pirooz Eghtesady, director of cardiothoracic surgery, St. Louis Children's Hospital
St. Louis, MO (PRWEB) June 16, 2011
A newborn baby from Michigan is being kept alive at St. Louis Children's Hospital with an artificial lung, the first time such a device has been used as a bridge to transplant for a child this small.
Six-week-old Ronan Bush has a rare congenital disease that prevents his blood from flowing properly through his lungs. Ronan needs a lung transplant to survive. But he must be supported long enough to receive donor organs.
Just one year ago, the Bush family lost another child to the same disease. She was also four-weeks-old.
"This device is new enough that it wouldn't have been available for our daughter last year," says Kim Anderson, Ronan's mom. "This has changed from a situation where essentially there was no hope for long-term treatment to where we now have that hope."
Currently, most children with severe heart and lung failure are supported with a heart-lung bypass machine called ECMO that uses a pump and oxygenator to deliver oxygen to the vital organs. While ECMO can be successful for this purpose, it is a temporary solution. Extended use can pose serious health risks, including permanent organ damage.
Once stabilized with ECMO, Ronan's surgical team - including director of cardiothoracic surgery Dr. Pirooz Eghtesady, lung transplant program director Dr. Stuart Sweet, and critical care specialist Dr. Avihu Gazit - made the decision to use the Maquet Quadrox-iD Pediatric Oxygenator.
The Quadrox-iD is serving as an artificial lung to "bridge" Ronan from ECMO to a lung transplant - in other words, buy him time to wait for donor lungs to become available.
Last year, a two-year-old at St. Louis Children's Hospital was the first in the country and the youngest in the world to use a similar artificial lung device, the sLA Membrane Lung made by Novalung.
The Quadrox-iD functions the same way as the Novalung device, but is small enough to work with the lower volume and blood flow of a newborn.
The long-term prognosis for baby Ronan is unclear. While the surgical team believes this is his best - and only - chance at survival, there is no existing data or research to light the way.
"What we've done here is show that this is feasible, that this technology can work," says Dr. Eghtesady. "Whether that translates into altering outcomes in the future, only time will tell."
###