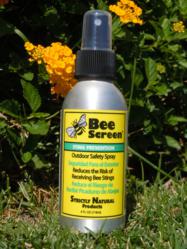 Bee Screen is a 'must have' to reduce the risk of getting painful bee stings
Riverside, CA (PRWEB) June 17, 2011
All of the honey a bee creates during its lifetime does not sweeten its sting. Bee Screen outdoor safety spray is powerful bee sting prevention for adults and children. Moms and Dads will be satisfied that the kids won't experience a day at the park that included a traumatic bee sting that ruined their day.
The consumer should spray Bee Screen on all areas of exposed skin prior to outdoor activities where bees are nearby to reduce the risk of getting stung by a bee.
The Bee Screen product is a "must have" to reduce the risk of getting painful bee stings while enjoying activities outside, such as, picnics, barbecues, hiking, camping, at the park, at the beach, at the swimming pool, viewing or participating in sports events, etc.
Bee Screen has an environmentally friendly formula that will not harm the bees, does not contain harsh chemicals and does not contain DEET.
Pump Spray 4 oz. Aluminum Recyclable Bottle.
Label text in English and Spanish Languages.
Made in U.S.A.
Bee Screen is available to purchase for a limited time discounted price of $9.99 with free shipping nationwide at: http://beescreen.com/
Contact Strictly Natural Products, Inc. for large quantity wholesale pricing.
# # #